August 5, 2014 | In the Winery | Serena Lourie
Bottling shenanigans
For some reason, no matter how well prepared we are for bottling, something always goes awry. We've seen the machine that puts the foils on the bottles eat the foils. The labeler puts on the labels askew or in clumps. The glass falls off the forklift and shatters. Murphy's Law always seems to rear its head. And this year was no different.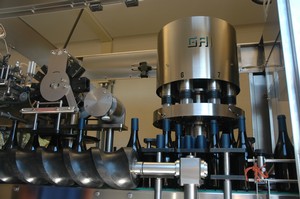 We were lulled into a false sense of security early on when everything arrived at the winery on time: corks, labels, glass, foils. The racking of the wine went smoothly and we received all the lab test results quickly. On bottling day, the first kink revealed itself early when our doughnut order wasn't ready for 7 a.m. pickup (sounds minor, but you get very hungry while bottling). That actually turned out to be okay, because by 8:15 the crew that was to help us with case handling hadn't arrived yet. As it turned out, they weren't able to make it at all, since unfortunately they had a minor car accident on the way to the winery.
We munched on doughnuts as we came up with a new plan. After a series of phone calls to friends who might be able to help, we finally got started. Eight hours later, 949 cases of 2013 Pinot noir were stacked, wrapped and waiting to be transferred to the warehouse.
Ah, now onto harvest!
- Serena
Comments
Commenting has been turned off.