July 24, 2013 | In the Vineyard | Serena Lourie
An introduction to Upton Vineyard
Many of you know that the first wine I made with Alan was a Sangiovese in 2008. In 2012 we decided to make a Sangiovese from Upton Vineyard in celebration of 5 years of Cartograph wines. Because we were so delighted by the quality of the grapes and the delightful vineyard owners, we will continue to make Sangiovese. So, let me tell you about the Uptons and their vineyard.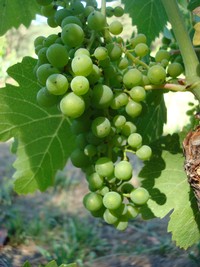 The Upton Vineyard is located in Redwood Valley in Mendocino County. It received it's certified organic status from the CCOF in 1990. The vineyard sits at 700 ft in elevation and the soil is rocky benchland. Because the vineyard is sustainable and organic, John Upton amends the soil after harvest by using compost and cover crops. Crimson clover is used for pest management. Because of the winds blowing through the canyon, mildew is minimized and little sulfuring is needed.
In addition to grapes (Petite Sirah, Sauvignon Blanc, Sangiovese), they also raise bees and chickens and have numerous fruit trees and walnut trees. If you go by the property, their incredibly energetic dog Raider will most likely run outside and greet you.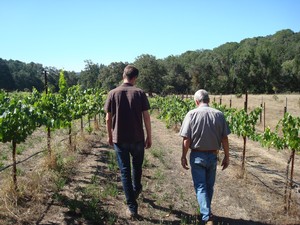 Comments
Commenting has been turned off.