May 1, 2013 | In the Tasting Room | Serena Lourie
A new tasting room!
We are taking Cartograph on a new adventure by opening a new tasting room where we will be the sole winery! Having had two years in a shared space, we decided it was time for us to create a new space where friends, newcomers, fans of Cartograph, and curious wine seekers could truly experience the Cartograph story.
Our new location is half a block from the main square in downtown Healdsburg so we are on your walking path if you are coming to visit Healdsburg. Visit us at 340 Center St., right next door to Zin Restaurant.
We will spend the next several months in construction but hope to open the doors to our new home in late August 2013. Please follow us on Twitter and Facebook for updates and photos.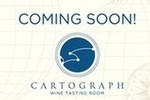 Comments
Commenting has been turned off.