October 24, 2013 | In the Vineyard | Alan Baker
2013 Harvest Wrap Up
Watching the vineyards throughout the summer made it clear that we'd be picking early this season. In August, we had a spell of cool weather that slowed things down a bit and helped us build good flavors. We kicked things off on Aug. 16 by picking Chardonnay for our first-ever sparkling wine, which is now just about ready to go back to bottle for its secondary fermentation. A couple of weeks later began an absolute avalanche of Pinot.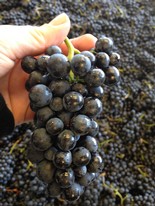 We picked four of our five Pinot vineyards in the first six days of September and wrapped up picking Pinot on Sept. 11. Yes, we were incredibly sleep-deprived for a while, but we were very encouraged by the fruit that came in. As I taste the Pinot in barrel, I'm thinking that this will be a year of subtle red fruits in most lots, and it's definitely a high-acid year. This will likely be a vintage that's lively and elegant when young, but the wines should age very well.
After the Pinot we had three picks left. The Gewürztraminer came in on Sept. 16, a good three weeks earlier than last year. I kept the temperature quite low on this fermentation to protect the wonderful aromatics. Seems like it worked: as I write, the wine has just gone dry in the tank and is very aromatic with citrus and floral notes aplenty.
After the Gewürz pick we had a bit of a waiting game for the last two picks. Our Riesling and Sangiovese vineyards are both in remote areas of Mendocino County. We had a couple of good rains during the wait, which always makes us nervous, but the Sangio can handle it thanks to its loose clusters and thick skins.
Riesling, on the other hand, is pretty fragile, and Botrytis is always a factor. This fungus (also called "noble rot") is almost always present to some extent in Riesling; vineyard conditions dictate how much. When it really takes over a vineyard, vintners will often make a sweet, Botrytisized version of Riesling that can be incredibly tasty (and often quite expensive). However, that wasn't our goal—so as soon as we saw evidence that Botrytis was starting to spread, we picked the fruit and had the crew leave the heavily affected clusters for a later pick, when we'll use them to make a sweet wine. This wine is slowly fermenting in tank and should go dry around the end of the month. It's full of black-tea and peach-pit aromas right now.

We picked the Sangiovese the day after we picked the Riesling and the berries looked amazing—unaffected by the rains other than a bit of a slowdown in sugar accumulation. In fact, as you can see in the video blelow, the fruit was in such good shape that we had to foot-trod the fermentation bin for several days to free up some juice so the fermentation could begin. The fruit is full of bright cherry flavors and some serious tannins coming out of the thicker skins. We'll release the 2012 Sangiovese next summer and will release the 2013 in the summer of 2015.
The early start to the growing season and a bit of a cooldown in August had many varieties ripening at the same time, so we had moments where we didn't think we had space for all the fruit in the winery (we use the great facility at Punchdown Cellars)—but with a bit of luck, it all came together. I feel like this year will be a high-water mark for us. Watching those perfect berries roll off the high-tech sorting line at Punchdown was so exciting, because our best shot at making perfect, ethereal Pinot is to get those berries into the tank in the best shape possible.
I need to wrap up these ferments and get the winter garden prepped so we have goodies to give away when you visit the new tasting room. Hope to see you there soon.
Cheers, Alan
Comments