August 10, 2013 | In the Winery | Serena Lourie
2012 Pinot is in the bottle
It's a pleasure to get the 2012 wine into bottle because we are very excited about this vintage. It was an excellent growing season with a nice balance in temperature and rainfall. We expanded the Cartograph footprint and included several new vineyards: Mariah in Mendocino Ridge, Leonardo Julio in the Russian River Valley, and Harlan in Green Valley. When the 2012 Pinots are released, you will truly be able to do a tasting tour of Northern California Pinot and compare Pinot noirs within the same region as well as across two appellations known for great Pinot.
Back to the nuances of bottling. While the concept of bottling – wine goes into the bottle, insert cork,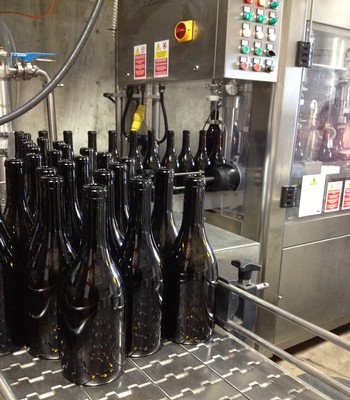 apply label and foil, pack in box – is straightforward, the mechanics behind bottling are complex. Alan begins the bottling process about twelve weeks prior to bottling day. First he does blending trials to decide which barrels of wine will become the vineyard designates and which barrels will make the appellation wines. With blends completed, he then designs the back label (the timeline of the wine) and gets the labels submitted to the TTB for approval. While the labels are being approved and printed, we select the wine bottles, corks, and foils.
About one week before the bottling date, Alan moves the wine from the barrels to steel tanks so that the wine can integrate prior to bottling. Then comes the magical act of coordinating the arrival of all the materials to the winery within 24 hours of bottling.
Day of bottling, we assemble a team and arrive at the winery first thing in the morning. The bottling line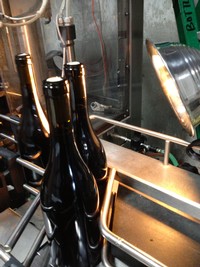 and tubes through which the wine will flow from tanks to the line get sterilized. Then away we go and bottling commences. Wrenches come in very handy during bottling as you are often making tiny adjustments to the bottling line in order to get the precise fill level and your label at the right height. Forty-eight hours later, everything is bottled, the cases are shrink-wrapped and on pallets ready to move to the warehouse for bottle aging.
Comments
Commenting has been turned off.