Pizza and Pinot for the 2018 Spring Release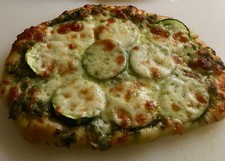 Recipe Date:
April 5, 2018
Measurements:
Imperial (US)
Ingredients
see each recipe link below for the ingredients
Directions
2016 Russian River Pinot Noir paired with Fig & Goat Cheese Pizza with Arugula and Pear
Pairing notes: We loved the tension between the fig and goat cheese and how both those flavors brought out the bright red fruit aspects of this Pinot.
Serena's tips: If you like meat on your pizza, we recommended a thinly sliced Lomo (dry-cured pork loin).
2016 Cartograph Estate Pommard Clone Pinot Noir paired with Brussel Sprouts Pizza with Balsamic Red Onions
Pairing notes: The Pommard can stand up to the bite of the Brussel sprouts while the balsamic red onions highlight the fruit.
Serena'a tips: For the meat lovers, we recommended adding some chopped prosciutto sprinkled across the top just as the pizza comes out of the oven or about two minutes before pulling it out of the oven.
2016 Cartograph Estate 777 Clone Pinot Noir paired with Arugula and Eggplant Pizza
Pairing notes: There is something about eggplant and the 777 clone which create a perfect balancing act between earth and fruit.
Serena'a tips: We reduced the chopped fresh oregano to 1/2 tbsp. so as to not overwhelm the Pinot. For those who want meat, we recommend some Jamón ibérico (cured Iberian ham) added on top of the eggplant and beneath the cheese.
2016 Cartograph Esate 667 Clone Pinot Noir paired with a Wild Mushroom Pizza with Caramelized Onions, Fontina and Rosemary
Pairing notes: We discovered this recipe when we were doing pairings for the 2010 Perli Vineyard Pinot noir and thought we would bring it back for the Estate 667 Clone Pinot because the erathy elements fo the pizza balance the fruit component in the Pinot and the caramelized onions help temper the vibrant acidity.
Serena's tips: Make sure to really caramelize the onions as it truly enhances the flavors. And for the meat lovers, throw some thinly sliced proscuitto on top after cooking.
2014 Transverse Pinot Noir paired with Roasted Butternut Squash with Carmelized Onions and Fresh Rosemary
Pairing notes: Transverse has so many layers that keep opening up with the different vegetables.
Serena's tips: Here's an interesting choice for the meat lovers, try some thinly sliced Wild Boar Sopressata, a little goes a long way. Go light on the rosemary as it can overwhelm.
Pizza Dough
Here's the recipe we use. Although, when we don't have time, we happily pick up a store bought pizza dough.
Caramelizing Onions
Caramelizing onions always takes longer than most recipes tell you. For most pizza recipes, I use two onions and it takes about 40 minutes. Here are directions for how to caramelize onions.