Grilled Pork Chops with Peaches and Pole Beans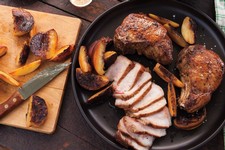 Recipe Date:
September 1, 2018
Measurements:
Imperial (US)
Ingredients
1/2 cup olive oil, plus extra for drizzling
1/2 cup vegetable oil
3 tbsps chopped fresh marjoram, divided
2 tbsps dijon mustard
2 tbsps minced garlic
1/4 cup white wine vinegar
freshly cracked black pepper
4 (1 1/2 inch thick) bone-in pork chops (about 1 lb each)
4 tsps kosher salt, plus extra
8 cups (1 1/4 lb) pole beans (romano, haricots verts, or yellow wax), trimmed
1/2 cup thinly sliced shallot rings
4 semi-ripe peaches, halved and pitted
Directions
Tasting notes: The peach with the pork provides a sweet and savory element that mimics how the Estate Pinot Noir transitions from fruity to savory.
Serena's tips: You can do a bone-in or boneless pork chop.
Recipe:
Website link
Website address: www.epicurious.com/recipes/food/views/grilled-pork-chops-with-peaches-and-pole-beans-395917
Recipe and photo courtesy of: www.epicurious.com.