Sunset is arriving earlier and earlier and we're smelling the wonderful aromas of fermentation at the winery. Fall is here!
RECENT PRESS
Alder Yarrow, author of Vinography, who recently reviewed our Rosé, enjoyed the 2012 Floodgate Vineyard Gewürztraminer: read it here.


Harvest update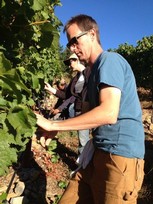 Harvest season is upon us and we're excited that we have nine different picks this year: five Pinot noir picks and one pick each of Chardonnay, Riesling, Gewürztraminer, and Sangiovese.
In August we picked the Chardonnay that went into our very first sparkling wine (which Alan described in the last newsletter). What a fun way to celebrate our five years of harvests in Healdsburg!
In the first eleven days of September, we picked almost 18 tons of Pinot noir. Luckily, we had a solid crew at each vineyard and additional help from Deb and Tina, our new Cartograph hospitality team (see below for more about Tina).
We started at 4 a.m. on Labor Day in the Russian River Valley and picked two different Pinot clones (115 and 2A) that came in at a little over four tons. Wednesday at 5:30am we headed to Green Valley at the far western edge of the Russian River Valley and picked three different clones of Pinot (Pommard, Swan, Heritage), about four tons total. Thursday we were up in Mendocino Ridge for the Perli Vineyard sunrise pick and picked two tons of Pinot (clones 667 and 777); and wrapped up that week on Saturday on the flats at Floodgate Vineyard at 4a.m., picking almost five tons of Pinot (clones 667 and Pommard). We finished the Pinot pick on Sept. 11 at Mariah Vineyard in the Mendocino Ridge appellation where we picked just over 2 tons of Pinot (clones 115 and 777).
After each pick, we brought all this Pinot to our new winery home at Punchdown Cellars, where we sorted and destemmed the grapes-otherwise known as the "crush" and got them into their tanks to cold soak before fermentation. (There's more about the pick process here and the cold-soak process here.)
Alan spent the days after each pick gearing up for the next one by tasting and sugar-sampling the fruit in our other vineyards, while Serena focused on our tasting room project (update below).
After we finished picking the Pinot, we had a few days off before picking the Gewürztraminer from Floodgate Vineyard on Sept. 16. Next up: our Sangiovese and Riesling, which are both a bit behind the Pinot, so those picks will likely happen in late September or early October.

Tasting ROOM status
Just a couple of weeks after our last update, the tasting room space looks radically different. Walls are up, ducts are gone, electrical outlets have been moved, and our brand-new lighting is going in. The floor has been leveled and the tile work began this week. We're shooting for an October opening, hoping tentatively for 10th—we'll keep you posted. You can peek in to see our progress at 340 Center St. in Healdsburg.

MEET TINA CLOUTIER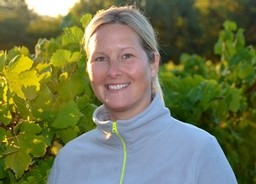 Please welcome the second member of the Cartograph hospitality team! Minnesota native Tina Cloutier spent many years sipping only hops and barley . . . until a dinner party where she tasted a bottle of 2002 J Winery Pinot Noir made in Healdsburg. She discovered that not only was she in love with the taste, but she was also intrigued by how the wine was made. She spent the next several years learning about wine and winemaking, taking sommelier courses and exploring wine regions.
Bitten by the wine bug and knowing that she wanted to be amid wineries and vines, Tina ventured into Minnesota wine country and worked at a winery in Stillwater in exchange for wine. After several harvests there, she'd set her sights on moving to California wine country when she met a California winemaker at one of her favorite Minneapolis restaurants. Three weeks later, she was packing her car and heading to Healdsburg for an internship during the 2009 harvest. Tina spends most of her time these days immersed in the world of wine, but you might also spot her on the beach in Bodega Bay reading a good old murder mystery.
You'll find Tina in the Cartograph tasting room Tuesdays through Saturdays—please come by and introduce yourself!
Photo Credit: Glen Sauber

FROM THE WINEMAKER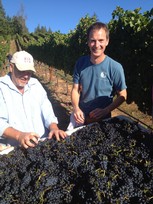 2013 Pinot
It's almost unfathomable that every last Cartograph Pinot Noir grape from the 2013 vintage was in the tank by Sept. 11. We knew that we were in for an early season, but to pick every lot of Pinot in an 11-day stretch is pretty amazing—and pretty cool, really.
Some years you have the luxury of picking a vineyard, getting that wine on its way, then focusing on the next pick. This year, once we started picking, I was out early each day to get samples from far-flung vineyards, then headed back to the winery to check on the juice and do all the prep that's necessary to nudge fermentations along slowly on their way to becoming wine. Then it was grab a bite, get a little sleep, and bolt out early to do it all again or ride the tractor for a pick.
It's hectic, but I'm not complaining. I love bounding around wine-country back roads while the countryside is alive with harvest activity. The energy is great and I'm always blown away both by the beauty of where we live and by the wonderful people with whom we get to work. Watching the sun rise over pine-topped ridges or looking down from those ridges as deep fog coils in the valley below is an experience like no other . . . and there are few places I'd rather be than on the tractor at 5 a.m. with a big moon in the sky and ice-cold grapes filling the bins.
I'm a lucky guy. Getting through a few sleepless weeks is a small price to pay for all the wonderful things that harvest brings.
Cheers,
Alan

UPCOMING EVENTS
October 27: Pinot on the River in Healdsburg, CA - details here
November 6: Twin Cities tasting (details coming soon)
November 7: Winemaker dinner at Cafe Lurcat, Minneapolic, MN (details coming soon)
December 7: Pinot Days, Santa Monica, CA (details coming soon)

BACK TO WORK WE GO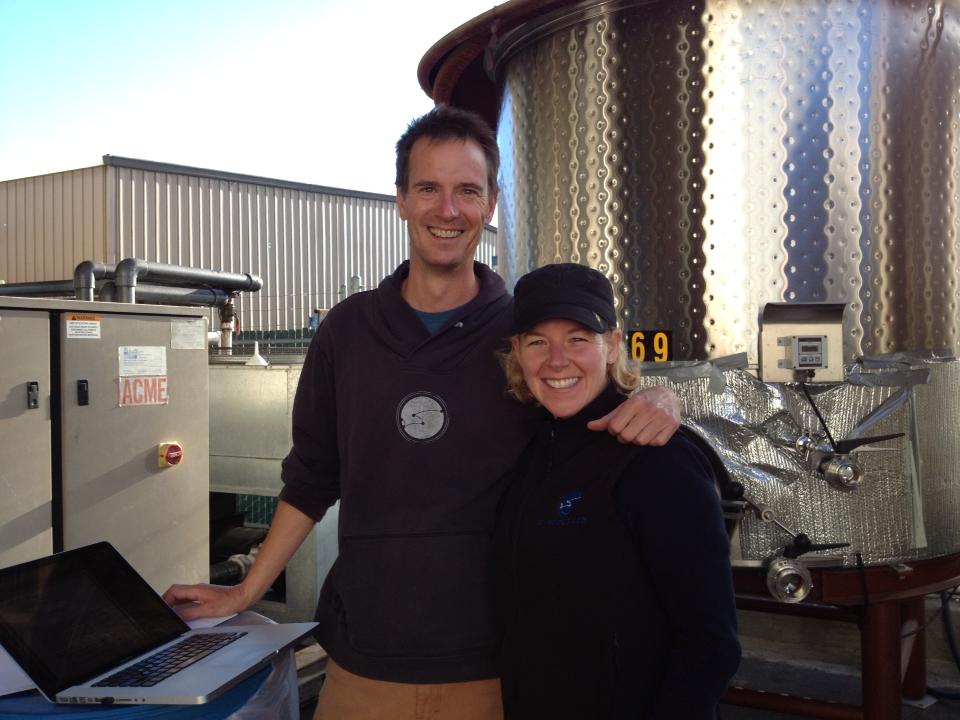 Our days are full as we work through the frenetic part of harvest season and get ourselves to the home stretch of the tasting room buildout . . . which means that our new wine releases are right around the corner. We can't wait to share them with you.
Cheers,
Alan, Winemaker/Owner, and Serena, Owner
Phot Credit: George Bato