Hard to believe it's already the tail end of summer ... kids are starting school, daylight is fading earlier and we've already picked our first grapes! More on that below. We'll focus on our other grape picks in our September newsletter, but first we want to get you caught up on late summer at Cartograph. (Speaking of summer, don't forget to order your Summer Sipper Bundle before the offer expires on September 10! Use code: SummerSipper for 10% off)
RECENT PRESS
We received an "Exceptional" on the 2012 Rosé of Pinot Noir from Dan Berger in his July 25 issue of his weekly wine commentary, "Dan Berger's Vintage Experience". Additional praise for this beauty has been given by Thea Dwelle, author of Luscious Lushes, read it here, and by Alder Yarrow, Author of Vinography, read it here.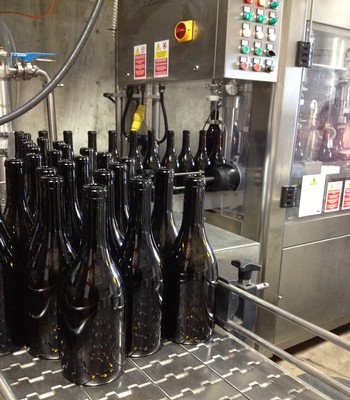 We spent Aug. 8 and 9 surrounded by the clinking and clanking of the bottling line. We bottled 938 cases of Pinot Noir from the 2012 harvest—amazing to think that we were at just 50 cases in 2008. We added several new vineyards in 2012, so you'll be seeing seven 2012 Pinots from Cartograph.
It's a pleasure to get the 2012 wine into bottle, because we're very excited about this vintage; it was an excellent growing season, with a nice balance in temperature and rainfall. We expanded the Cartograph footprint into several new vineyards: Mariah in Mendocino Ridge, Leonardo Julio in the Russian River Valley, and Tom Harlan and Ruth Johnson's vineyard in Green Valley. When we release our 2012 wine in Fall 2014, you'll be able to do a true tasting tour of Northern California pinots
While the concept of bottling—wine goes into bottle, insert cork, apply label and foil, pack in box—is straightforward, the process is complex.
Twelve weeks before bottling day: Blending trials help Alan decide which barrels of wine will become the vineyard designates (wine produced with grapes from a single vineyard, e.g., Floodgate) and which barrels will become the appellation wines (those that are named according to the geographical area where the grapes were grown, e.g., Russian River Valley).
With the blends completed, Alan then designs the back labels that show each specific wine's chronology, and submits the labels to the Alcohol & Tobacco Tax and Trade Bureau (affectionately known as the TTB) for approval. While the labels are being approved and printed, we select the wine bottles, corks and foils.
One week before bottling day: Alan moves the wine from its barrels to steel tanks so that the wine can integrate before it's bottled. Then comes the magic act of coordinating the arrival of all the materials to the winery within 24 hours of bottling.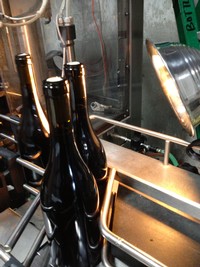 On bottling day: We assemble a team and arrive at the winery early that morning. Once the bottling line and the tubes from the tanks to the line are sterilized, the line cranks up. Wrenches come in very handy as we need to make tiny adjustments to the line to get exactly the right fill level and label height.
Forty-eight hours later, everything is bottled, the cases are shrink-wrapped and on pallets ready to move to the warehouse for bottle aging. It all seems pretty straightforward as we look back . . . but it's hard to describe how nerve-racking it is to touch the wine for the last time before we unveil it more than a year later.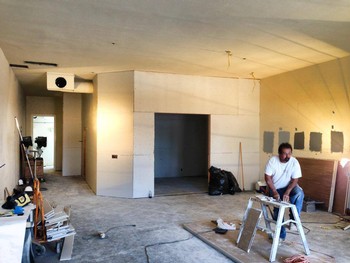 The short version: It's very exciting to see things moving quickly on the construction of our new tasting room at 340 Center St. in Healdsburg—the space looks different every day. We're hoping for construction to wrap up and to be open the first week of October.
The detailed version: All the plumbing has been removed, so we've been without a kitchen or bathroom as the builders make way for wall demolition and new flooring. (Luckily for us, Zin restaurant and its lovely running water and delicious meals are right next door.)
After trying at least eight different shades of gray, we've finally found the right one for the walls. We've finished painting the wine storage room; the other two rooms were just wood studs at the beginning of this week, but drywalling started and we'll get those walls painted as soon as they are ready.
Our furniture is being built and is due to arrive the first week of October. We love the modern look and we think we've found the coolest couch ever; the only pieces we can't seem to find are the right table and chairs for our reserve tasting room. It's nice to be thinking about finishing touches rather than trying to figure out where electrical outlets should go.
The city is wrapping up the streetscaping project in front of our building this week with the addition of bedding plants and trees. We're looking forward to having a fun public space right outside our front door.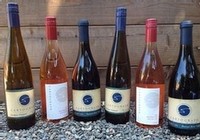 We've put together a six-pack of our favorite summer wines that we hope will help you pass the rest of the season with a smile on your face. You'll get two bottles of our 2012 Russian River Valley Rosé of Pinot Noir, two bottles of 2012 Floodgate Vineyard Gewürztraminer, and two bottles of 2011 Russian River Valley Pinot Noir—all for just $144, use the coupon code SummerSipper. We'll even give you a complimentary upgrade to UPS Cold Ship to make sure your wines arrive safely. Offer extended to September 10. Click here to purchase.

We're very happy to introduce the first member of the Cartograph hospitality team: Cartograph Ambassador Deb Kravitz. Deb visited Sonoma County in 2008 for a three-month sabbatical, and it was our good fortune that she never left. We had the pleasure of meeting Deb soon after we moved to Healdsburg in 2009, and she quickly became a dear friend and champion of Cartograph wines.
On Sundays beginning this fall, you'll find Deb behind the Cartograph tasting-room bar, pouring our wines and educating people about Pinot Noir. When she's not pouring, Deb loves to be out and about in the community pursuing her passions for wine, food and horseback riding. Oh, and in her spare time, she's a really fierce attorney. (photo credit: Jason Mancebo)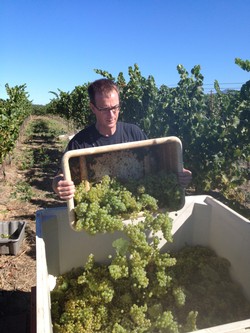 Sparkling Wine
Our first grapes of the year are in! On Aug. 16 we picked Chardonnay from Leonardo Julio Vineyard in the Russian River Valley for our very first sparkling wine, a blanc de blancs. (Blanc de blancs is a term indicating that the wine is made from 100% Chardonnay grapes.)
It wasn't without a little trepidation that we decided to make sparkling wine. But thanks to the successes of domestic producers like Roederer and Schramsberg, as well as recent offerings by small producers like Kathleen Inman (who makes a wonderful sparkling brut rosé), we feel we have the tools to make a beautifully seductive sparkler.
The grapes came in looking perfect. One advantage of picking them a bit less ripe, as you do for sparkling wines, is that they're more firm and look so pretty that you might think they're fake. Their sugar levels are also lower than that of fully ripe grapes, so we need to be on top of what's going on in the vineyard to make sure the chemistry is just right. We usually pick most of our grapes at about 22/23 deg. Brix, but for this wine we were looking for 18-19 deg. Brix. And the sugar level is only part of it. You want a good balance of tartaric acid and malic acid (roughly 50/50 if you're lucky). The flavors kicked in about five days before harvest, and we had perfect numbers (3.2 pH and 10.4 g/L TA, for you juice nerds).
Creating a sparkling wine the way they do in the best houses in Champagne is called following the méthode champenoise. This is exactly what we're doing in the facilities at Rack and Riddle in Hopland, about 30 miles from Healdsburg. Here's how the process went.
After making sure we had the right lot of grapes to use in the base wine, we went straight to the press with the 5 tons of harvested Chardonnay. Impurities in this juice can significantly affect the finished wine, so we didn't just squish out as much juice as we could. Instead, we separated out the free-run juice (the juice that flows freely from the bins that may have been released by grapes under the pressure of their own weight) and kept it separate from the main pressing.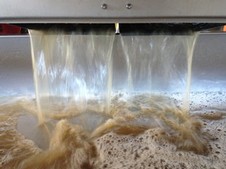 Then, we pressed the majority of the juice off the skin, seeds and stems very gently and slowly. As we got to higher pressures, we started tasting the press output. As soon as we started tasting—or, more accurately, feeling—a bit of sharpness on the palate, we cut the rest of the pressed wine over into another small steel container to ferment separately. The whole press cycle took about three hours.
We settled that juice for a day, then racked the clean juice off to other stainless-steel tanks and inoculated it with yeast to start the fermentation. And because we had such clean fruit coming into the winery, we were lucky enough to be able to use the free-run juice that was first out of the press. (Sometimes I'm really happy that we're fanatic about keeping everything as clean as possible.) The small lot of juice from the end of the run, called the "press fraction," will be fermented separately and then evaluated to see how much can be blended back into the main lot, or "cuvée." This press fraction will lend palate weight and a little backbone to the finished wine.
We're just a few days into what will likely be a two-week fermentation. I'll post updates as we take our next steps with this fun project.

Join us on Saturday, Aug. 31, for Taste of Sonoma at the MacMurray Ranch in Healdsburg. With more than 200 wineries pouring thousands of wines and more than 60 local chefs whipping up divine pairings, it promises to be an incredible experience for oenophiles and foodies alike. More information and tickets here.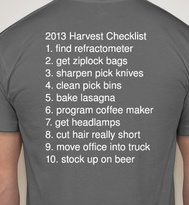 As the lazy days of summer recede, we're getting really excited about the next several weeks. In between building and painting at the new tasting room, we're sharpening our pick knives and getting our pick bins cleaned and ready to go. We hope you're enjoying the last of summer and feeling the excitement of the upcoming harvest.
Cheers,
Alan, Winemaker/Owner, and Serena, Owner