Our last four weeks have been loaded with transitions: we've watched the tasting room evolve into a finished space; our 2013 wines have moved from crush to barrel; and the weather has definitely turned from summer to fall.
RECENT PRESS
Wine critic Dan Berger reviewed Cartograph's 2012 Floodgate Vineyard Gewürztraminer in the Oct. 3 issue of Dan Berger's Vintage Experiences and rated it "exceptional." He said, ". . . a gorgeous lichee nut aroma with hints of gardenia and carnations leads to a crisp mid-palate laden with ginger and citrus, and a dry but not austere aftertaste. A slam dunk for Asian foods." Click here to subscribe to Dan's newsletter.


tasting room: open for business!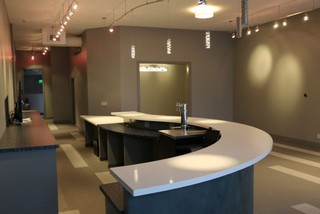 It's been a busy six months, and we're delighted to announce that we're finally ready to open the new Cartograph tasting room! Okay, so maybe the furniture will arrive sometime in mid-November, and we'll be hanging the artwork in stages, but the most important elements (e.g., the bar) are complete. So—drum roll—we plan to open to the public on Friday, Nov. 1. We'll be open every day from noon to 6:30 p.m. Stop by and see us at 340 Center Street in downtown Healdsburg.

fall release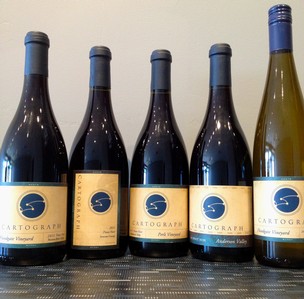 We're excited to release five wines this fall and, in particular, to present a breadth of terroir from Sonoma County through the Russian River Valley north to Anderson Valley and west to Mendocino Ridge. The appellation Pinot Noir wines capture the essence of the valleys in which the grapes grew, whereas the Perli and Floodgate Pinots are true reflections of their unique vineyards.
The 2012 Floodgate Vineyard Gewürztraminer was a conundrum this year, as it wasn't ready to be released in the spring. By July it was a great summer white, but now it's truly showing itself as a fall wine: lush on the palate, with citrus blossom on the nose. We've always loved this wine with Thanksgiving turkey—a highly recommended pairing.

2013 Harvest Wrap-Up

Watching the vineyards throughout the summer made it clear that we'd be picking early this season. In August, we had a spell of cool weather that slowed things down a bit and helped us build good flavors. We kicked things off on Aug. 16 by picking Chardonnay for our first-ever sparkling wine, which is now just about ready to go back to bottle for its secondary fermentation. A couple of weeks later began an absolute avalanche of Pinot. Click HERE to read more about the harvest on Cartograph's blog.
Cheers,
Alan

October 27: Pinot on the River in Healdsburg, CA - details here (use the code CartW to receive a 10% discount on your ticket purchase)
November 7: Winemaker dinner at Cafe Lurcat, Minneapolis, MN (Note: Because our tasting room opens the first week of November, we're unable to do a second November event in the Twin Cities. Watch for an announcement of a spring event.)
January 18 - 19: Winter Wineland, Healdsburg, CA - details here, tickets go on sale Nov. 4
February 28: World of Pinot Noir, Santa Barbara, CA - details here

As we finish stocking the tasting room in anticipation of our opening, our thoughts are turning to Thanksgiving. We'll send ideas for food and wine pairings at the beginning of next month. In the meantime, come see us!
Cheers,
Alan, Winemaker/Owner, and Serena, Owner