We're looking forward to a whole year of newness in 2014. Last year, we were focused on launching our new tasting room—and this year, we're turning our attention to creating unique new wine experiences for you, from events to tours to wine-on-tap to go.
RECENT PRESS
Two writers who had tasted previous Cartograph vintages stopped in this month. Both of them had lovely things to say about our new space and our wines: Thanks to Charlotte Chipperfield of RambleAboutWine.com for her piece, and to James Knight for his writeup.


a slew of newness
• We started the year with a new experience for Cartograph by participating in Winter Wineland, our first Wine Road event. Wine Road, an organization that seeks to educate people about Sonoma County wines, puts on three event weekends each year to encourage people to explore wine country.
To showcase the range of what we offer, we created a special tasting menu: our 2012 Gewürztraminer on tap; our newly released 2011 Sonoma County Pinot noir; and one of our library wines, the 2010 Russian River Pinot noir. Alan created a special lighting display to evoke a starry winter night, covering the tasting-room ceiling in tiny white lights that add a festive glow. (People have enjoyed the lights so much that we're leaving them up for a bit.) It was a true pleasure to share our wines with many new friends, and, as always, we also enjoyed catching up with the folks who know our wines well.
• We're getting ready to launch the Pinot A to Z tasting that Alan wrote about in the last newsletter. This one-of-a-kind immersive tasting takes you through every step in the transformation of the Pinot grape, from harvest through fermentation to finished wine. We'll announce spring tasting dates in March; if you have a group of six or more and would like a private event, call (707.433.8270) or email to set it up. The cost is $50 per person, $35 for Cartograph Circle members.
•

The tap system in our new tasting room means that we can start a growler program. So what's a growler? Good old Wikipedia tells us that "the term likely dates back to the late 19th century when fresh beer was carried from the local pub to one's home by means of a small galvanized pail. It is claimed the sound that the CO2 made when it escaped from the lid as the beer sloshed around sounded like a growl."
When you buy one of our special one-liter growlers, you can fill it directly from our taps to take home and enjoy at your leisure—and we'll refill it for you at a special discounted rate after your initial purchase. We're waiting for our growlers to arrive from Italy; watch for an announcement when they arrive. Currently on tap: 2012 Floodgate Vineyard Gewürztraminer and 2012 Rosé of Pinot Noir.
• Looking ahead to summer, we're excited to begin offering tours of Floodgate Vineyard in the Russian River Valley. The tours will happen on select Wednesday and Saturday mornings and will last approximately two hours. We'll walk through the vineyard, see how the Gewürztraminer and Pinot noir are growing, and taste a special flight of Floodgate wines. Watch our website for upcoming dates, and call the tasting room at 707.433.8270 to reserve your spot.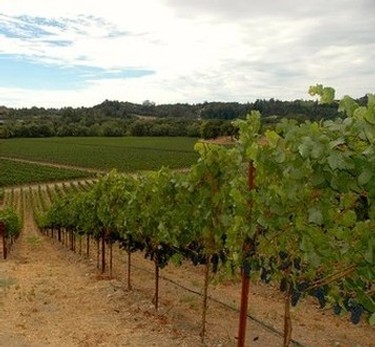 weather watch
This has been an incredibly dry winter—the driest on record for most of California, and bad enough to put us into an official drought emergency. We've had a lot of people ask what this means for the grapes.
The primary concern right now: protecting the fruit from frost. When there is a threat of frost, many growers turn on their sprinklers to coat the budding vines with ice; it might seem counterintuitive, but this protects the buds from frost damage. Our warm, dry winter creates the potential for an early bud break, which means a longer frost season . . . with potentially no water to run the sprinklers. A dry winter also typically results in less fruit, and any frost damage could further reduce yields.
The 10-day forecast calls for rain. Our fingers are crossed that it will materialize and we'll start seeing a more normal winter weather pattern.

Ah, January, the month of slow tasting-room traffic, and stacks of reports for Serena to grind through, and oh so many different ways to tell various entities what our inventory levels were on Dec. 31. Slice it and dice it by appellation, growing zone, gallons under 14%, gallons over 14%, gallons evaporated into thin air, cases tax paid, cases in bond . . . it goes on and on. Not exactly a fun newsletter topic, however.
With less to do in the winery, I'm spending some time updating our Facebook page to reflect the history of Cartograph. While entering the milestones going back to the day I drove out of St. Paul in 2005 with my kayak strapped to the top of my Volvo, I found all sorts of fun things on my blog from those days. You can browse them on our Facebook page for a look at the adventures that have gotten us where we are today. You can scroll back to the beginning of our timeline on the right side of that page.
Meantime, I'll be working on getting ready for bottling in late February. On the schedule: bottling our 2013 Gewürztraminer and Rosé of Pinot noir, our first-ever Riesling and our 2012 Sangiovese.
Cheers,
Alan

February 28: World of Pinot Noir, Santa Barbara, CA
April 26: Pinot Days, Chicago, IL
Please note that we're still planning our official tasting-room grand opening party - stay tuned for updates.

We hope that 2014 has gotten off to a great start for you, and we hope to catch up in person soon. It's hard to believe that spring is right around the corner . . . we're pretty sure that many of you are very much ready for a break from the cold. Snuggle up with some Pinot, it'll be Rosé season soon enough.
Cheers,
Alan, Winemaker/Owner, and Serena, Owner