PASS the pigs POST-GAME WRAPUP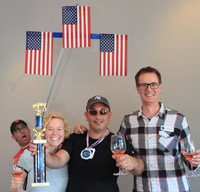 To help celebrate Charlie Palmer's Pigs & Pinot weekend dedicated to all things pork paired with Pinot noir, we held our first annual Pass the Pigs Olympics . . . and it was as ridiculous as you might expect. We had 12 contestants in a double elimination tournament that generated huge waves of laughter as well as some serious poker faces from the über-competitive players. There were even a few tears as the flags were raised with the playing of the national anthem. We won't spoil anything since we'll have a video coming soon, but we can tell you that the medal podium was a solid USA sweep. The chants of "U! S! A! U! S! A!" definitely got the attention of folks strolling past the open tasting-room doors.
Now, to get this event fully endorsed by Charlie Palmer and get a line for betting in Las Vegas—we're going big time!

We've just bottled our white wines from 2013, along with our first-ever Sangiovese, which we made in 2012. Bottling can often be a hair-pulling event with plenty of tiny things that can go off the rails, but thanks to our new production facility, Punchdown Cellars, we were ready well in advance.
Here are a few images from the bottling runs.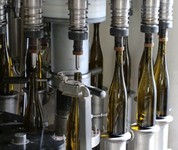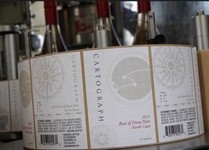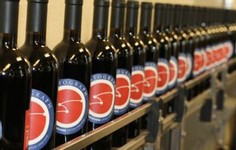 We're looking forward to sharing these wines and other spring releases with you. Spring releases, you say? Yes, we've finally tasted through the 2012 Pinots and have chosen what wines will join the 2013 whites in the spring release.
Drum roll, please! The wines that will be the spring 2014 release are:
2013 Rosé of Pinot Noir
2013 Floodgate Vineyard Gewürztraminer
2012 Russian River Pinot Noir
2012 Green Valley Pinot Noir (Cartograph Circle members only)
2012 Roma's Vineyard Pinot Noir
Cartograph Circle members will receive their allocation notices soon, and we'll send their shipments before we release the wines to the public.
Many Circle members have chosen a club level that allows them to pick the wines they receive. To help you decide which wines best fit your dinner table, we're taking several of them on the road to share at club events in the Twin Cities and Chicago before our spring release party in May. (See Upcoming Events below for dates).
Our Cartograph Spring Release and Club Pickup party will be May 3 in the Cartograph tasting room, where we'll host a party and pair the wines with great paella and other fun food. Tickets are $50; Cartograph Circle members can purchase two tickets at half price ($25).
April 24: Circle Club Tasting, Minneapolis, MN
April 25: Winemaker Tasting, Chicago, IL
April 26: Pinot Days, Chicago, IL (use code CARTCH14 for a 15% discount on tickets)
May 3: Spring Release and Club Pickup Party, Cartograph Tasting Room, 340 Center St., Healdsburg
May 24–25: Passport to Pinot , Healdsburg, CA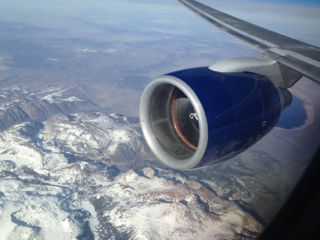 We hope to see you at our upcoming Minneapolis or Chicago tastings—but if not, please let us know if you're planning a visit to the tasting room. We always love to catch up with you and hear what you think of our wines.
Cheers,
Alan, Winemaker/Owner, and Serena, Owner