Ziti with Portobello Mushrooms, Caramelized Onions, and Goat Cheese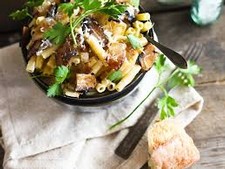 Recipe Date:
September 1, 2018
Measurements:
Imperial (US)
Ingredients
2 tbsps butter
4 tbsps olive oil
3 onions, chopped
1 tsp salt
1/2 tsp sugar
1 lb portobello mushrooms, stems removed, caps halved and cut crosswise into 1/4-inch slices
3 tbsps chopped fresh parsley
1/4 tsp fresh ground black pepper
3/4 lb ziti
3 ozs soft goat cheese (such as montrachet) crumbled
3 tbsps grated parmesan cheese, plus more for serving
Directions
Tasting notes: We love how the mushroom and caramelized onions support the earthiness of Pinot and make the bright cherry elements vibrant.
Serena's tips: Make sure the onions are very well browned, depending on your heat it may take a little longer than 20 minutes.
Recipe:
Website link
Website address: www.foodandwine.com/recipes/ziti-portobello-mushrooms-caramelized-onions-and-goat-cheese
Recipe and photo courtesy of: www.foodandwine.com.