Wild Mushroom Risotto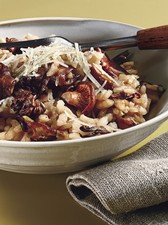 Recipe Date:
September 13, 2014
Measurements:
Imperial (US)
Ingredients
9 1/2 tbsps Butter
1 1/2 lbs Fresh Wild Mushrooms
7 cups Low-Salt Chicken Broth
1 tbsp Olive Oil
3/4 cup Leeks, Chopped
1 1/4 cups Arborio Rice
1/4 cup Dry White Wine
1/4 cup Dry Vermouth
1/4 cup Parmesan, Grated
Directions
Pairing Notes: Mushrooms bring out the earthiness of the Floodgate Vineyard Pinot, while the fruit on the palate helps balance the flavors.
Chef's Tip: We like using whatever fresh mushrooms are in season: porcini, chanterelle, oysters, shitake, cremini. We found that the texture and taste weren't as good when we used dried mushrooms.
Recipe by Lori De Mori and photo by Nigel Cox, courtesy of Bon Appétit via Epicurious.com, Wild Mushroom Risotto