Wild Mushroom Risotto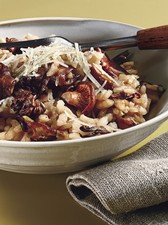 Recipe Date:
September 13, 2014
Measurements:
Imperial (US)
Ingredients
9 1/2 tbsps butter
1 1/2 lbs fresh wild mushrooms
7 cups low-salt chicken broth
1 tbsp olive oil
3/4 cup leeks, chopped
1 1/4 cups arborio rice
1/4 cup dry white wine
1/4 cup dry vermouth
1/4 cup parmesan, grated
Directions
Tasting notes: Mushrooms bring out the earthiness of the Floodgate Vineyard Pinot, while the fruit on the palate helps balance the flavors.
Serena's tips: We like using whatever fresh mushrooms are in season: porcini, chanterelle, oysters, shitake, cremini. We found that the texture and taste weren't as good when we used dried mushrooms.
Recipe:
Website link
Website address: www.epicurious.com/recipes/food/views/wild-mushroom-risotto-361309
Recipe by Lori De Mori and photo by Nigel Cox, courtesy of Bon Appétit via Epicurious.com, Wild Mushroom Risotto.