Wasabi Crab Cakes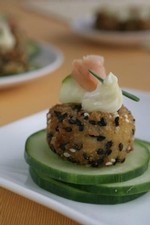 Recipe Date:
March 8, 2017
Measurements:
Imperial (US)
Ingredients
8 ozs Lump crab, cleaned
1/2 cup Mayonnaise
2 Green onions, finely chopped
2 tsps Wasabi powder
1 tsp Finely chopped lime zest
1 tsp Soy sauce
3/4 cup All purpose flour
1/4 tsp Salt
1/8 tsp Freshly ground black pepper
2 Eggs, beaten
1 cup Panko breadcrumbs
2 tbsps Black sesame seeds
2 cups Peanut or canola oil, for frying
Directions
Pairing notes: Crab and Gewürztraminer are always delicious together but th ehint of wasabi adds an additional bang!
Serena's tip: You can turn this into a dinner and instead of making 12 - 15 pieces as an appetizer, you can make 4 - 5 crab cakes. And, if you don't like to use a deep fryer, you can always saute the crab cakes in a frying pan. Don't serve the cucumber wedge with the Gewürztraminer, they don't pair well.
Recipe: Wasabi Crab Cakes, Chowgirls Killer Party Food, copyright 2016
In a medium bowl combine crab, mayonnaise, green onions, wasabi powder, lime zest and soy sauce and mix until well combine. Set aside.
Ina separate shallow bowl or on a large plate, combine flour, salt and pepper. I a small bowl, beat teh eggs and set aside. Combine breadcrumbs and sesame seeds on a large plate.
Using a tablespoon, measure even portions of crab cake mixture, Use your hands to form into small balls and line up on a parchment-;lined baking sheet.
Dredge each crab cake ball, one at a time, first in flour, then eggs, and finally breadcrumb micture, Flatten each abll into a disc on baking sheet and refridgerate until ready to deep fry.
On high heat in a deep saucepan or deep fryer, heat oil until a candy thermometer reads 350 degrees F. Working in small batches, fry crab cakes for 3 to 5 minutes or until lightly brones. Remove from oil and place flat on paper towels to drain.
While crab cakes cook, combine mayonnaise with wasabi poweder in a small bowl and stir well.
To serve, dollop each crab cake wtihe about 1/2 tsp wasabi mayonnaiser, a sliver of pickled giner and a tiny cucumber wedge. Serve warm.
Makes 12 - 15 pieces.
Photo courtesy of: www.chowgirls.net
Our recipe pairings for the spring 2017 release are all coming from Chowgirls Killer Party Food, the best-selling cookbook written by good friends of ours from Minnesota. Chowgirls has been catering Cartograph's Minnesota spring release parties since our debut, and chef Heidi Andermack has been friends with Alan since his days at Minnesota Public Radio.