Summer Squash and Ricotta Bruschetta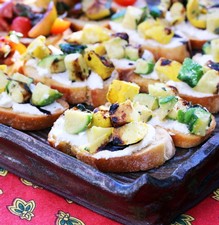 Recipe Date:
March 7, 2017
Measurements:
Imperial (US)
Ingredients
3 tbsps olive oil
1 small yellow squash, halved and cut into 1/2 inch wedges
1 small zucchini, halved and cut into 1/2 inch wedges
1/2 cup diced sweet onions
1 tsp kosher salt
1/2 tsp freshly ground black pepper
1/2 tbsp capers
1 tbsp white balsamic vinegar
1/4 cup grated pecorino romano
1 1/2 cups whole milk ricotta
1/4 cup fresh basil chiffonade
2 garlic cloves, peeled and minced
Directions
Tasting notes: The sweet savoriness of summer squash compliments the earthy aspect of the Russian River Valley Pinot Noir and brightens the cherry flavors.
Serena's tips: Reduce the capers to 1/2 tsp because it was a little too salty with 1 tsp. Parmesan can be used as a substitute for Pecorino Romano. We used the BelGioioso whole milk ricotta because it has great flavor and creaminess.
Recipe: Three Summer Bruschettas: Summer Squash & Ricotta Bruschetta, Chowgirls Killer Party Food, copyright 2016
In a large frying pan on high, heat the olive oil. Add yellow squash, zucchini, onions, salt and pepper. Sauté for 4 minutes, allowing squash to lightly brown. Add garlic and sauté for 4-5 minutes, until squash is tender but not too mushy. Remove from heat, stir in basil and capers, and allow to cool slightly. Stir in vinegar and 1/4 cup of cheese.
To serve: spread about 1 tbsp Ricotta atop each crostini and top with a scant 1 tbsp of squash mixture. Garnish with grated Pecorino Romano and more basil.
Makes about 24 bruschetta.
Photo courtesy of the Little Yellow Kitchen http://www.fromthelittleyellowkitchen.com/2014/05/04/summer-squash-crostini-with-ricotta-lemon/
Our recipe pairings for the spring 2017 release are from Chowgirls Killer Party Food, the best-selling cookbook written by good friends of ours from Minnesota. Chowgirls has been catering Cartograph's Minnesota spring release parties since our debut, and chef Heidi Andermack has been friends with Alan since his days at Minnesota Public Radio.