Roasted Salmon with Potatoes and Herbed Creme Fraiche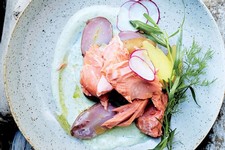 Recipe Date:
September 1, 2018
Measurements:
Imperial (US)
Ingredients
1 1/2 lbs small waxy potatoes, scrubbed
kosher Salt
3 tbsps olive oil, plus extra for drizzling
1 (1 1/2 lb) skin-on salmon
1/2 cup creme fraiche
2 tbsps chopped fresh chives, dill, or tarragon, plus extra tarragon and dill sprigs for serving
2 radishes, trimmed and thinly sliced
Directions
Tasting notes: Fresh salmon always provides such a beautiful backdrop for Pinot and we think this dish exemplifies that. Another one of our favorite summer meals once the potatoes in our garden are ready to be picked!
Serena's tips: Use creme fraiche as it brings a richness to the dish that Greek yogurt does not.
Recipe:
Website link
Website address: https://www.epicurious.com/recipes/food/views/roasted-salmon-with-potatoes-and-herbed-creme-fraiche-51236440
Recipe and photo courtesy of: www.epicurious.com.