Roasted Butternut Squash Salad with Warm Cider Vinaigrette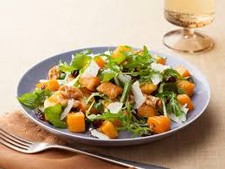 Recipe Date:
September 1, 2018
Measurements:
Imperial (US)
Butternut squash and Pinot is a delightful combination!
Ingredients
1 (1 1/2 lb) butternut squash, peeled diced (3/4 inch)
olive oil
1 pure maple syrup
Kosher salt and freshly ground black pepper
3 tbsps dried cranberries
3/4 cup apple cider or apple juice
2 tbsps cider vinegar
2 tbsps minced shallots
2 tsps Dijon mustard
4 ozs baby arugula, washed and spun dry
1/2 cup walnuts, halved and toasted
3/4 cup freshly grated parmesan
Directions
Pairing Notes: Roasted Butternut squash is such a wonderful pairing with Starscape Pinot noir as it compliments the earthiness in the wine and allows the bright fruit flavors to shine.
Chef's Tip: You can roast the butternut squash in advance and serve it at room temperature.
Recipe and photo courtesy of: The Food Network