Ribollita (Tuscan Tomato and Bread Soup)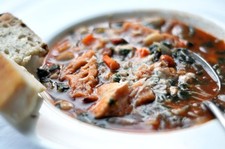 Recipe Date:
September 1, 2015
Measurements:
Imperial (US)
Ingredients
2 tbsps Olive oil
4 Large Cloves Garlic, chopped
1 Medium Onion, chopped
2 Carrots, peeled and chopped
2 Celery Ribs, chopped
1 Dried Bay Leaf
1 10-oz. Bag Frozen Spinach
2 Cans Cannellini Beans, with liquid
6 cups Vegetable stock
1 15-oz. Can Tomato Pureé (about 1 3/4 cups)
9 ozs Day Old Bread, torn into pieces (about 3 cups)
1/4 cup Fresh Basil, chopped
Grated Parmesan Cheese, to taste
Directions
Pairing Notes: We love this soup with Sangiovese because the hearty vegeatbles highlight the bright cherry in the wine.
Chef's Tip: Alan leaves the bread out and serves his soup over pasta, Serena serves hers over sourdough croutons. Either way, it tastes delicious and defintiely don't skip on the grated parmesan,
Recipe and photo courtesy of thekitchn.com