Pork Tenderloin With Cherry-Rosemary Marmalade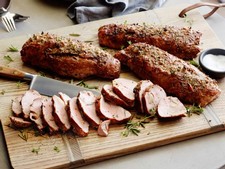 Recipe Date:
August 1, 2017
Measurements:
Imperial (US)
Ingredients
1 pork tenderloin (about 2 lb)
1 1/2 tsps kosher salt
1 freshly ground black pepper
1/4 cup finely chopped fresh parsley
2 garlic cloves, minced
2 tbsps olive oil
2 small shallots, diced
2 garlic cloves, minced
1/2 cup white wine
1 cup dried cherries, coarsely chopped
1 cup chicken or vegetable broth
2 tsps finely chopped rosemary
salt and pepper, to taste
Directions
Tasting notes: Pork and Pinot Noir are a classic pairing and the addition of the cherry marmalade heightens the dark fruit elements in the Choate Vineyard Pinot.
Serena's tip: Quarter the cherriesand reduce the rosemary to half a teaspoon especially if you are pulling the rosemary right from your garden.
Recipe: Pork Tenderloin WIth Cherry-Rosemary Maralade, Chowgirls Killer Party Food, copyright 2016
PORK
Heat a gas or charcoal grill to about 375ºF. If using a broiler, preheat to 525ºF and preheat a baking sheet or broiler pan.
Rinse pork tenderloin and pat dry. In a small bowl, stir together salt, pepper, parsley, and garlic. Rub spice mixture on pork tenderloin, covering it completely, and set aside.
When grill is ready, place tenderloin in the center and close lid. Roast for 12-15 minutes, turning about every 3 minutes, until tenderloin is nicely browned and reaches an internal temperarture of 160ºF. If broiling, place tenderloin on preheated baking sheet, 3-4 in from flame, and roast for 10 minutes per side.
Allow pork to rest for 10 minutes, then carve and serve with Cherry-Rosemary Marmalade.
MARMALADE
In a large frying pan on medium, heat olive oil until sizzling, then add shallots and garlic. Sauté for 2-3 minutes, until slightly softened. Increase heat to high and add wine, stirring well, until reduced by half. Stir in cherries and broth, reduce heat to medium-low, and cook, stirring occasionally, for 15 minutes or until cherries have softened and mixture takes on a glossy appearance. Stir in chopped rosemary, salt, and pepper. Let cool slightly before serving. Can be refrigerated for up to 2 weeks.
Makes 8-12 appetizer servings of pork, and 1 cup of the cherry-rosemary marmalade.
Photo courtesy of Food Network, http://www.foodnetwork.com/topics/pork-tenderloin-recipes
Our recipe pairings for the fall 2017 release are coming from Chowgirls Killer Party Food, the best-selling cookbook written by good friends of ours from Minnesota. Chowgirls has been catering Cartograph's Minnesota spring release parties since our debut, and chef Heidi Andermack has been friends with Alan since his days at Minnesota Public Radio.