Oven-roasted Salmon, Asparagus and New Potatoes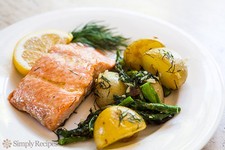 Recipe Date:
April 4, 2016
Measurements:
Imperial (US)
Ingredients
1 lb small new potatoes, scrubbed clean and halved
2 tbsps olive oil
1/2 lb medium asparagus, trimmed and sliced on the diagonal, 1 inch pieces
1 tbsp fresh dill, chopped
1 strip of lemon zest
1 small garlic clove, coarsely chopped (we run it through a garlic press)
1 tsp salt (recipe calls for 1/2 tsp but we think a smidge more is better)
freshly ground pepper
2 salmon fillets (8 - 10 oz) or steaks cut about 1 inch thick
1 lemon, cut into wedges
Directions
Tasting notes: A wonderfully light and flavorful dish. The richness of salmon plays with the delicate balance of the Mendocino Ridge Pinot. The potatoes and asparagus offer tasty supporting flavors.
Serena's tips: We really like using fingerling potatoes and you could do a chopped sweet potato as well.
Recipe:
Website link
Website address: www.simplyrecipes.com/recipes/oven_roasted_salmon_asparagus_and_new_potatoes/
Recipe courtesy of Elise Bauser via www.simplyrecipes.com. Photo courtesy of www.rsimplyrecipes.com.