One-Pot Mujadara With Leeks and Greens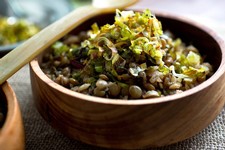 Recipe Date:
March 10, 2021
Measurements:
Imperial (US)
Ingredients
1 cup brown or green lentils
2 leeks, white and light green parts only, roots trimmed
2 1/4 tsps salt, more as needed
1 cup extra-virgin olive oil
2 garlic cloves, minced
3/4 cup long-grain rice
1 1/2 tsps ground cumin
1/2 tsp ground allspice
1/4 tsp cayenne
1 bay leaf
1 cinnamon stick
4 cups trimmed and chopped spring greens (chard leaves, spinach, kale, mustard or a combination)
Directions
Tasting notes: The bright fruit and savory elements on the Transverse absolutely echo the beautiful spices in this dish. They play together well and enhance each other.
Serena's tips: Serve this with a really delicious bread to soak up any extra sauce. Pull the cinnamon stick and bay leaf out before serving. We did spinach with it and loved how it brought out the earthiness in the Pinot.
Recipe:
Website link
Website address: cooking.nytimes.com/recipes/1014804-one-pot-mujadara-with-leeks-and-greens
Recipe courtesy of Melissa Clark and the New York Times. Photo courtesy of Andrew Scrivani for The New York Times.