One-Pot Braised Chicken With Coconut Milk, Tomato and Ginger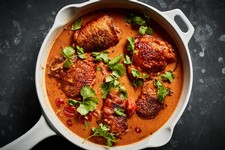 Recipe Date:
March 9, 2021
Measurements:
Imperial (US)
Ingredients
1 ½ to 2 pounds bone-in, skin-on chicken thighs, at room temperature
kosher salt and black pepper
2 tbsps grapeseed or canola oil
1 medium red onion, thinly sliced
3 garlic cloves, finely chopped
1 (2-inch) piece fresh ginger, peeled and finely chopped
1 tsp ground cumin
1/2 tsp ground cinnamon
1/2 tsp red-pepper flakes
1 (14-ounce) can cherry or diced tomatoes with their juices
1 (13-ounce) can full-fat coconut milk
3 tsps roughly chopped cilantro
1 lime, quartered, for serving (optional)
steamed white rice, for serving (optional)
Directions
Tasting notes: Any recipe that has ginger, lime, coconut milk and cilantro practically screams for Riesling. We love how those ingredients speak to the brightness of the Brooks Riesling.
Serena's tips: Decrease the red pepper by half and definitely use the lemon!
Recipe:
Website link
website address: https://cooking.nytimes.com/recipes/1020864-one-pot-braised-chicken-with-coconut-milk-tomato-and-ginger
Recipe courtesy of Colu Henry and the New York Times. Photo curtsey of Johnny Miller for The New York Times. Food Stylist: Rebecca Jurkevich.