One-Pan Roasted Fish With Cherry Tomatoes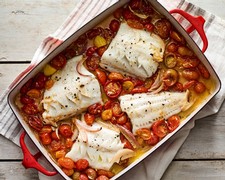 Recipe Date:
August 26, 2020
Measurements:
Imperial (US)
Ingredients
1 pint cherry tomatoes, halved
1/2 cup thinly sliced shallots (about 1 large)
2 tsps minced garlic (about 2 large cloves)
2 tbsps olive oil, plus more for brushing
1 tbsp sherry or red wine vinegar
1 tsp honey
1 tsp kosher salt, plus more to taste
1/2 tsp black pepper, plus more to taste
4 (6-ounce) skin-on mild white fish fillets, such as cod or halibut
1 tsp freshly grated lemon zest (from about 1/2 lemon)
chopped fresh basil, for serving
chopped fresh mint, for serving
Directions
Tasting notes: Roasting the tomatoes brings out a sweetness that balances the savory elements of the Pinot noir.
Serena's tips: If we have kalamata olives on hand, we'll throw them in in Step 3.
Recipe:
Website link
Website address: https://cooking.nytimes.com/recipes/1020454-one-pan-roasted-fish-with-cherry-tomatoes
Recipe courtesy of Lidey Heuck and the New York Times. Photo courtesy of Andrew Purcell for The New York Times. Food Sylist: Barrett Washburne.