One-Pan Roasted Fish With Cherry Tomatoes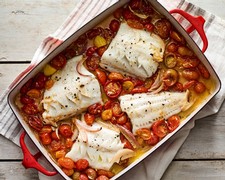 Recipe Date:
August 26, 2020
Measurements:
Imperial (US)
Ingredients
1 pint cherry tomatoes, halved
1/2 cup thinly sliced shallots (about 1 large)
2 tsps minced garlic (about 2 large cloves)
2 tbsps olive oil, plus more for brushing
1 tbsp sherry or red wine vinegar
1 tsp honey
1 tsp kosher salt, plus more to taste
1/2 tsp black pepper, plus more to taste
4 (6-ounce) skin-on mild white fish fillets, such as cod or halibut
1 tsp freshly grated lemon zest (from about 1/2 lemon)
Chopped fresh basil, for serving
Chopped fresh mint, for serving
Directions
Pairing Notes: Roasting the tomatoes brings out a sweetness that balances the savory elements of the Pinot noir.
Chef's Tip: If we have kalamata olives on hand, we'll throw them in in Step 3.
Recipe courtesy of Lidey Heuck and the New York Times. Photo courtesy of Andrew Purcell for The New York Times. Food Sylist: Barrett Washburne.