Mustard-Glazed Pork Tenderloin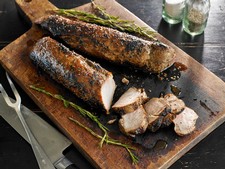 Recipe Date:
September 1, 2022
Measurements:
Imperial (US)
Ingredients
1 1/2 lbs pork tenderloin
3 tbsps brown sugar
2 tbsps grainy mustard
2 tsps chopped fresh or dried rosemary
2 tbsps dry sherry
Directions
Tasting notes: This dish has suprisingly delicate flavors which pair beuatifully with the fruit elements in the Pinot. We paired it with a lentil salad to highlight the earthy aspects of the pork and the Pinot.
Serena's tips: This makes closer to six servings so be prepared for leftovers.
Recipe:
Website link
Website address: https://cooking.nytimes.com/recipes/10080-mustard-glazed-pork-tenderloin
Recipe courtesy of Marian Burros for the New York Times. Photo courtesy of the New York Times.