Mushroom Pecan Pate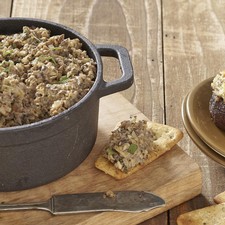 Recipe Date:
August 1, 2017
Measurements:
Imperial (US)
Ingredients
3/4 cup pecan halves
1 shallot roughly chopped
3 garlic cloves, roughly chopped
3 tbsps olive oil
8 ozs crimini or portobello mushrooms, sliced
4 ozs shiitake or other wild mushrooms, sliced
1/4 cup white wine
3 tbsps unsalted butter
1 1/2 tsps kosher salt
1 tsp freshly ground black pepper
2 tsps chopped fresh thyme, plus more for garnish
2 tsps freshly squeezed lemon juice
Directions
Tasting notes: Mushrooms and Pinot Noir are a classic pairing and the use of pecans adds a richness to the pate.
Serena's tips: I pulled thyme from the garden so I reduced the amount I ysed to 1 teaspoon.
Recipe: Vegetable Pate Trio: Mushroom-Pecan Pate, Chowgirls Killer Party Food, copyright 2016
In a small bowl, soak pecans in cold water for at least 1 hour.
In a large, heavy-bottomed frying pan on medium heat, sauté shallots and garlic in olive oil for about 4 minutes. Increase heat to high and add mushrooms a handful at a time, stirring continuously. Continue to cook over high heat for 5-7 minutes, until mushrooms are soft. Add wine and continue to cook for 2-3 minutes, until liquids have reduced by half. Reduce heat to low and add butter, salt, pepper, and 2 tsp thyme, stirring until butter has just melted. Set aside and allow to cool slightly. Pick a few of the prettiest mushrooms and reserve for garnish.
Drain pecans and transfer to a food processor. Add mushroom mixture and lemon juice and purée for about 45 seconds, until very smooth.
Transfer mixture to a small bowl lined with plastic wrap. Smooth top of mixture, cover, and chill for at least 3 hours. When ready to serve, invert bowl on to a serving plate, remove plastic wrap, and garnish molded pâté with fresh thyme and reserved mushrooms.
Makes 1 cup.
Photo courtesy of Eating Well, Mushroom Pate http://www.eatingwell.com/recipe/253039/mushroom-pate/
Our recipe pairings for the fall 2017 release are coming from Chowgirls Killer Party Food, the best-selling cookbook written by good friends of ours from Minnesota. Chowgirls has been catering Cartograph's Minnesota spring release parties since our debut, and chef Heidi Andermack has been friends with Alan since his days at Minnesota Public Radio.