Maple-Baked Salmon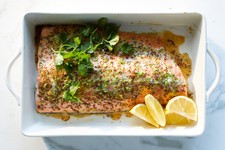 Recipe Date:
September 1, 2022
Measurements:
Imperial (US)
Ingredients
2 tbsps pure maple syrup
1 salmon fillet (1 1/2 lbs)
12 fresh cilantro sprigs
2 tbsps whole-grain dijon mustard
1 tbsp mayonnaise
kosher salt and ground black pepper, to taste
lemon wedges
Directions
Tasting notes: We love salmon paired with Pinot noir and this dish does not disappoint!
Serena's tips: The mayo is key here for sealing the glaze. We frequently double the recipe for large family dinners and it works great!
Recipe:
Website link
Website address: https://cooking.nytimes.com/recipes/1021718-maple-baked-salmon
Recipe courtesy of Genevieve Ko for the New York Times. Photo courtesy of the New York Times.