Mediterranean Lamb Burgers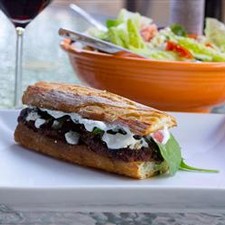 Recipe Date:
September 13, 2014
Measurements:
Imperial (US)
Ingredients
1 lb Ground Lamb
1/2 lb Ground Beef
3 tbsps Chopped Mint
1 tsp Fresh Ginger, Minced
1 tsp Garlic, Minced
1 tsp Salt
1/2 tsp Black Pepper
4 Ciabbata Rolls
16 ozs Greek Yogurt
1 Garlic Clove, Minced
1/2 Lemon, Zested
1/2 tsp Salt
1 Sweet Onion, Sliced Into 1/2 Inch Slices
4 Slices Green Tomato
8 ozs Feta Cheese, Sliced
8 Baby Arugula Leaves
Directions
Pairing Notes: Lamb is more delicate in flavor than most beef, so it's a natural pairing with lighter wines such as the 2012 Perli Pinot Noir. The bright-red fruit layered through the Pinot brings out the lamb's earthier, darker notes.
Chef's Tip: Make sure to oil your grill grates so the burgers don't stick. For best results, cook your burgers to medium rare.
Recipe courtesy of HerbanSpoons, via allrecipes.com, Mediterranean Lamb Burger
Photo by Michaelc, courtesy of allrecipes.com