Mediterranean Lamb Burgers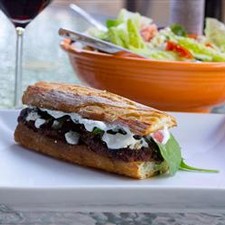 Recipe Date:
September 13, 2014
Measurements:
Imperial (US)
Ingredients
1 lb ground lamb
1/2 lb ground beef
3 tbsps chopped mint
1 tsp fresh finger,minced
1 tsp garlic, minced
1 tsp salt
1/2 tsp black pepper
4 ciabbata rolls
16 ozs greek yogurt
1 garlic clove, minced
1/2 lemon, zested
1/2 tsp salt
1 sweet onion, sliced into 1/2 inch slices
4 green tomato slices
8 ozs feta cheese, sliced
8 baby arugula leaves
Directions
Tasting notes: Lamb is more delicate in flavor than most beef, so it's a natural pairing with lighter wines such as the 2012 Perli Pinot Noir. The bright-red fruit layered through the Pinot brings out the lamb's earthier, darker notes.
Serena's tips: Make sure to oil your grill grates so the burgers don't stick. For best results, cook your burgers to medium rare.
Recipe:
Website link
Website address: allrecipes.com/Recipe/Mediterranean-Lamb-Burgers/?prop24=hn_slide1_Mediterranean-Lamb-Burgers&evt19=1
Recipe courtesy of HerbanSpoons, via allrecipes.com, Mediterranean Lamb Burger. Photo by Michaelc, courtesy of allrecipes.com.