Heirloom Tomato Tartlets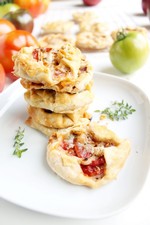 Recipe Date:
August 1, 2017
Measurements:
Imperial (US)
Ingredients
1 1/2 cups Whole milk ricotta
1 cup Grated Parmesan or Pecorino Romano cheese (3/4 cup for filling, 1/4 cup for topping)
2 Eggs
1/4 cup Chopped fresh basil
1 tsp Salt
1/4 tsp Freshly ground black pepper
2 tbsps Softened butter for muffin tin
2 9-in. Pie crusts at room temperature and cut into 2.5-in. rounds
1 lb Hierloom cherry tomatoes, cut into 3 or 4 rounds
2 tsps Olive oil
2 1/2 cups All purpose flour
1 tsp Salt
1 1/4 cups Cold unsalted butter, cut into 1/4-in. slices
1/4 cup Ice water, strained
1/4 cup Cold vodka
Directions
Pairing notes: The heirloom tomatoes and basil pair beautifully with the bright red fruit and hints of orange in the Sangiovese. Ricotta adds a little richness which compliments the finish.
Serena's tip: When we are pressed for time, we get a pre-made pie crust from Downtown Bakery and make it as one tart instead of multiple tartlets.
Recipe: Heirloom Tomato Tartlets, Chowgirls Killer Party Food, copyright 2016
Preheat oven to 350ºF.
In a medium bowl, whisk together ricotta, ¾ cup cheese, eggs, and chopped basil. Season with salt and pepper and whisk until combined.
Butter each cup of a mini muffin tin and gently press a round of pastry dough in to each, taking care that each round meets the top of the cup. Bake unfilled for 5-10 minutes or until they begin to brown. Remove from oven.
Using a tablespoon, carefully fill each cup with cheese mixture, top with 2 or 3 tomato slices, and brush with olive oil. Sprinkle tartlets with ¼ cup cheese.
Bake on middle oven rack for 20-25 mintues or until pastry has browned and filling has set. Remove from oven and allow to cool on a baking rack for at least 15 minutes. Using a butter knife, gently pry each tartlet out,
Serve warm or room temperature.
LYNN'S PIE CRUST
This is the pie crust that Amy's mom, Lynn, has made since forever. It's really easy to work with and yields generous portions so you can make a thick crust. And this crust is awesomely flaky because it's made with butter.
In a food processor, combine 1 ½ cups flour, salt, and sugar and pulse 4 times. Add butter and pulse 15-20 times, until mixture resembles cottage cheese and no dry flour is visible. Using a wooden spon, redistribute dough in food processor.
Add remaining flour and process 6-8 more times, then empty mixture into a medium bowl. Sprinkle with icy cold water and vodka. On a floured surface, using your hands, mix dough with a folding motion and divide into 2 even pieces, Cover and refrigerate for at least 30 minutes before rolling out on a floured surface.
Makes 2 9-in. pie crusts, or 24 tartlers.
Photo courtesy of: Peppered Salt, Easy Heirloom Tartlets http://pepperedsalt.com/2013/09/11/easy-heirloom-tomato-tartlets/
Our recipe pairings for the fall 2017 release are all coming from Chowgirls Killer Party Food, the best-selling cookbook written by good friends of ours from Minnesota. Chowgirls has been catering Cartograph's Minnesota spring release parties since our debut, and chef Heidi Andermack has been friends with Alan since his days at Minnesota Public Radio.