Grilled Trout with White Beans and Caper Vinaigrette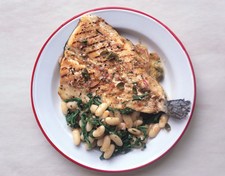 Recipe Date:
September 1, 2021
Measurements:
Imperial (US)
Ingredients
1/4 cup (1/2 stick) unsalted butter
1 tbsp olive oil
1/4 cup minced shallots
2 tbsps white balsamic vinegar
1 tbsp drained capers
1 tsp chopped fresh rosemary
1 15-ounce can white beans, rinsed, drained
1 tsp finely grated lemon peel
2 10-ounce cleaned boned butterflied trout
1 cup coarsely sliced arugula
Directions
Tasting notes: The vinaigrette adds a brightness to the meal that compliments the red fruit in the Starscape Pinot.
Serena's tips: You can cook this in a saute pan on the stove instead of grilling it.
Recipe:
Website link
Website address: https://www.bonappetit.com/recipe/grilled-trout-with-white-beans-and-caper-vinaigrette
Recipe courtesy of Bon Appétit Test Kitchen and Epicurious. Photo courtesy of Lisa Hubbard and Epicurious.