Grilled Sirloin With Farro Tomato Salad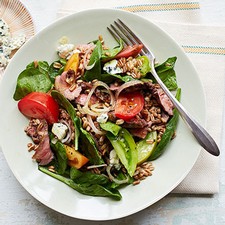 Recipe Date:
March 8, 2017
Measurements:
Imperial (US)
Ingredients
1 tbsp kosher salt
1 tbsp freshly ground black pepper
2 tsps garlic powder
1 tsp dried tarragon
1/8 tsp cayenne pepper
1 lb sirloin, about 1.5 inches thick
2 cups pearled farro
4 cups chicken stock
1 lb cherry tomatoes
2 tbsps olive oil
salt and pepper to taste
2 tbsps olive oil (for sautéing spinach)
2 garlic cloves, minced
4 cups firmly packed fresh baby spinach
1/2 cup chopped or crumbled feta cheese
1/4 cup chopped fresh mint
mint to garnish
Directions
Tasting notes: The earthiness of the farro combined with the sirloin play to the earthy elements of the RRV Pinot while also enhancing the fruit components on the wine.
Serena's tips: Decrease the kosher salt to 1/2 tbsp and the dried tarragon to 1 tsp (instead of a tbsp). We found that depending on the farro you buy, it can take longer to cook. Pearled farro takes about 25 minutes and unpearled farro can take up to 40 minutes. For the mint in the salad, we reduced the amount because it was fresh mint from the garden that had a pretty intense flavor.
Recipe: Grilled Sirloin With Farro Tomato Salad, Chowgirls Killer Party Food, copyright 2016
Preheat oven to 350 degrees F.
In a small bowl, combine salt, pepper, garlic powder, tarragon and cayenne to create a dry rub for the steak. Pat steak dry with a paper towel, then coat with herb and sauce mixture. Set aside, allowing it to come to room temperature.
Rinse farro in a fine mesh sieve. In a medium pot on high heat combine farro with cooking stock and bring to a boil. Stir and reduce heat to low. Cover and simmer for 20 minutes, until tender.
While farro cooks, halve cherry tomatoes and place them, seed side up, on parchment lined baking sheet. Using a basting brush, brush liberally with olive oil and sprinkle with kosher salt. Roast for 30 minutes until slightly browned and softened.
In a large frying pan over high heat, heat 2 tbsp olive oil. Add garlic and spinach and sauté, stirring continuously for 1-2 minutes or until about half the spinach is soft and wilted. Season with salt and pepper. Remove from heat and let it cool.
In a large bowl combine cooked farro, roasted tomatoes, and spinach-garlic mixture, tossing until well combined. Stir in feta and mint and season to taste with salt and pepper.
Heat a gas or charcoal grill to 250 degrees F. If using a broiler, preheat to 525 degrees F and preheat a cast iron frying pan. Grill steak, covered, for 6-7 minutes, then turn and cook for another 6-7 minutes for medium rare. If broiling, place steak in preheated frying pan and place 2-3 inches from flame. Broil for about 4 minutes per side. Set aside and allow to rest at least 15 minutes before slicing. Slice thinly on the diagonal and set aside.
To serve, spoon about 1/4 cup salad into each appetizer plate and place 1-2 strips steak alongside. Garnish with fresh mint leaves.
Makes 16 plates.
Photo courtesy of: Family Circle, Farro Steak Salad http://www.familycircle.com/recipe/farro-steak-salad/
Our recipe pairings for the spring 2017 release are from Chowgirls Killer Party Food, the best-selling cookbook written by good friends of ours from Minnesota. Chowgirls has been catering Cartograph's Minnesota spring release parties since our debut, and chef Heidi Andermack has been friends with Alan since his days at Minnesota Public Radio.