Grilled Pork with Cherry Sauce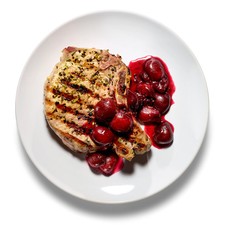 Recipe Date:
April 4, 2016
Measurements:
Imperial (US)
Ingredients
3 tbsps balsamic vinegar
3 tbsps sugar
3/4 cup dry red wine
1/4 cup shallot, minced
1 cup chicken broth
1 lb wour cherries (about 3 cups) pitted
1 tbsp cornstarch dissolved in 1 tbsp cold water
2 tsps fresh lime juice
8 pork chops, boneless, 1 inch thick
olive oil for rubbing chops
Directions
Tasting notes: We love pairing cherries with Pinot Noir and the pork adds the right amount of savoriness to the dish.
Serena's tips: Chop up the cherries, it makes the consistency of the sauce much better. The recipe calls for cinammon, we leave it out because it is overwhelming. You can definitely make the cherry sauce in advance and then rewarm it to save time.
Recipe:
Website link
Website address: www.epicurious.com/recipes/food/views/grilled-pork-chops-with-sour-cherry-sauce-12292
Recipe courtesy of Gourment via www.epicurious.com. Photo courtesy of The New York Times.