Grilled Pork Chop and Fig and Arugula Salad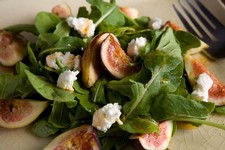 Measurements:
Imperial (US)
Ingredients
2 Boneless pork chops
2 cups Arugula
4 Fresh figs
2 tbsps Parmesan cheese, shaved
1 tbsp Toasted pine nuts
2 tbsps Balsamic vinegar
1 1/2 tbsps Olive oil
Salt and pepper to taste
Directions
Directions:
Salt and pepper both sides of the pork chops.
As the grill is warming, prepare your salad.
Whisk the balsamic vinegar and olive oil together and salt and pepper to taste.
Toss the arugula, toasted pine nuts and shaved parmesan with the salad dressing.
You can quarter the figs and throw them into the salad now. Or, halve the figs and give them a little time on the grill then add them to the salad.
Grill your pork chops on medium high heat for 4 - 6 minutes per side rotating 90 degrees once to get grill marks.
Let the pork chops rest for a few minutes and then serve alongside the salad.
Photo courtesy of http://www.nuggetmarket.com/recipes/44/arugula-and-fig-salad/