Grilled Chicken Breasts With Turmeric and Lime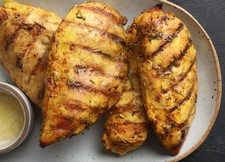 Recipe Date:
March 16, 2022
Measurements:
Imperial (US)
Ingredients
4 skinless, boneless chicken breasts, about 1 1/2 pounds
2 tbsps olive oil
3 tbsps freshly squeezed lime juice
1/2 tsp chile powder
1/2 tsp ground turmeric
2 tsps chopped fresh or crushed dried rosemary leaves
1 tsp finely minced garlic
salt to taste if desired
freshly ground pepper to taste
2 tbsps melted butter
Directions
Tasting notes: The turmeric and lime flavors are beautiful witht his Riesling.
Serena's tips: We use boneless thighs instead od boneless breasts to add an additional dimension of flavor. Watch the cook time, we found we needed more time.
Recipe:
Website link
Website address: https://cooking.nytimes.com/recipes/3028-grilled-chicken-breasts-with-turmeric-and-lime
Recipe courtesy of Pierre Franey for the New York Times. Photo courtesy of Craig Lee for The New York Times.