Fresh and Wild Mushroom Stew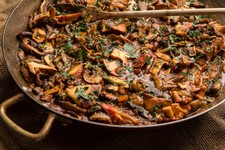 Recipe Date:
August 26, 2020
Measurements:
Imperial (US)
Ingredients
1 1/2 lbs cultivated brown mushrooms, like shiitake, cremini or portobello
1/2 lb pale wild mushrooms, like chanterelle (or use King trumpet or oyster)
extra virgin olive oil
1 large onion, diced
salt & pepper
1 tsp chopped thyme
1 tsp chopped sage or rosemary
pinch red pepper flakes or cayenne
1 tbsp tomato paste
3 small ripe tomatoes, peeled, seeded and chopped
1 tbsp all-purpose flour
porcini broth, heated, or use chicken or vegetable broth
1 tbsp butter
3 garlic cloves, minced
3 tbsps chopped parsley
Directions
Tasting notes: If you love mushrooms, this dish is for you. Because mushrooms pair beautifully with Pinot noir, it's an easy match.
Serena's tips: We loved this over polenta and threw a little brandy in at the beginning of Step 5.
Recipe:
Website link
Website address: https://cooking.nytimes.com/recipes/1015198-fresh-and-wild-mushroom-stew
Recipe courtesy of David Tanis and the New York Times. Photo courtesy of Fred R. Conrad for The New York Times.