Mushroom Pate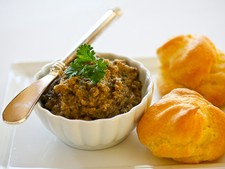 Recipe Date:
April 4, 2016
Measurements:
Imperial (US)
Ingredients
8 ozs Sliced mushrooms (we like cremini and portabellas)
1 Onion
2 tbsps Fresh parsley, chopped
1/4 cup Olive oil
1 tsp Sea Salt or Kosher Salt (1/3 tbsp table salt)
1/4 tsp Freshly ground black pepper
1 tbsp Balsamic vinegar
Directions
Pairing Notes: Mushrooms and Pinot are a classic combination and we think this is a great combination with the 2014 Russian River Valley Pinot Noir.
Chef's Tip: We saute the onions for about 5 minutes instead of 2 minutes. If you are serving it on the crostini, prep the crostini about an hour in advance of guests so that the moisture of the pate softens the crunch of the crostini. If you are serving it with crackers, definitely keep the crackers on the side.
Recipe and photo courtesy of www.tastykitchen.com