Crisp Salmon with Avocado Salad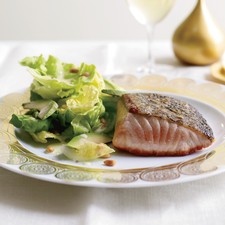 Recipe Date:
September 2, 2016
Measurements:
Imperial (US)
Ingredients
2 tbsps pine nuts
2 1/2 tbsps extra-virgin olive oil
2 tbsps freshly squeezed lemon juice
1 tbsp freshly squeezed orange juice
salt and pepper to taste
8 skin-on salmon fillets (about 6 ounces each)
3 heads bibb lettuce - large leaves torn into bite size pieces
2 avocados, thinly sliced
Directions
Tasting notes: The citrus elements of the salad dressing highlight the bright red fruit in that shows up in several of our Pinots. Salmon and Pinot are a classic pairing which we love. The creaminess in the salad dressing and the avocado balance the mouth feel of the Pinot.
Serena's tips: Because I like to make pesto, I always have a jar of pine nuts that I have toasted in advance on hand and that makes the first step of this recipe really easy. This is an easy recipe to reduce the serving size to 2 or 4 people, just keep the salad dressing amounts the same and use the extra dressing in another salad.
Recipe:
Website link
Website address: www.foodandwine.com/recipes/crisp-salmon-avocado-salad
Recipe courtesy of Food & Wine Melissa Rubel Jacobson October 2009. Photo courtesy of Food & Wine.