Corn Risotto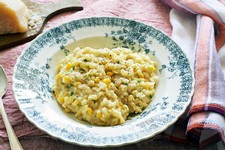 Recipe Date:
March 16, 2022
Measurements:
Imperial (US)
Ingredients
6 cups corn stock (see recipe) or chicken stock
2 tbsps unsalted butter
leek, white and light green parts only, finely chopped
1 tsp kosher salt
1/4 tsp black pepper
1 cup arborio rice
1/2 cup dry white wine
1 1/2 cups raw corn kernels (from about 2 ears corn)
1 cup grated parmesan cheese
1/4 cup heavy cream
2 tbsps minced chives (optional)
2 corn cobs (kernels removed and reserved for risotto)
1 onion, cut into quarters
1 carrot, cut into 1-inch pieces
1 celery rib, cut crosswise into 1-inch pieces
dark green leaves from 1 leek (reserve white and light green parts for risotto)
2 cloves garlic, smashed
1 salt
1 tsp whole black peppercorns
Directions
Tasting notes: The acidity of the Riesling and the creaminess of the risotto seesaw each other and make your mouth water. The fresh summer corn mimics the bright aromas and flavors in the Riesling.
Serena's tips: If you have the time to make the corn stock, it's definitely worth it. The whipped cream really does add richness without heft.
Recipe:
Website link
Website address: https://cooking.nytimes.com/recipes/1016753-corn-risotto

Recipe from Jessica Battilana, adapted by Emily Weinstein for the New York Times. Photo courtesy of Melina Hammer for The New York Times.