Coq au Vin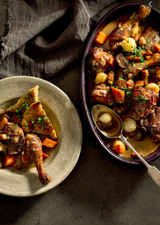 Recipe Date:
August 26, 2020
Measurements:
Imperial (US)
Ingredients
5 lbs skinless chicken breasts and thighs
1 to 2 cups unbleached flour
salt and freshly ground black pepper to taste
1/4 cup olive oil
1/4 cup cognac or brandy, plus 3 to 4 tablespoons
2 tbsps chopped fresh thyme or 1 teaspoon dried thyme
1 bay leaf
3 tbsps minced parsley, plus additional for garnish
2 tbsps tomato paste
1 lb small white mushrooms, cleaned, and stems removed
24 pearl onions, peeled
1 bottle (750 milliliters) good quality dry red wine
1 or 2 tablespoons madeira or marsala
Directions
Tasting notes: Coq au vin, mashed potatoes and a great bottle of Pinot noir is all you need for this delicious dinner.
Serena's tips: If we have pancetta and garlic on hand, we add that to the pot after Step 2 and cook it before putting the chicken back in.
Recipe:
Website link
Website address: https://cooking.nytimes.com/recipes/1255-coq-au-vin
Recipe courtesy of Martha Rose Schulman and the New York Times. Photo courtesy of Francesco Tonelli for The New York Times.