Chickpea Vegetable Soup With Parmesan, Rosemary and Lemon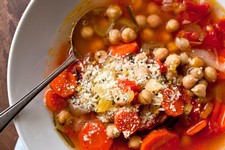 Recipe Date:
March 9, 2021
Measurements:
Imperial (US)
Ingredients
1 whole clove
1/2 onion, sliced root to stem so it stays intact, peeled
1 lb dried chickpeas, soaked overnight and drained
1 sprig rosemary, plus 1 teaspoon finely chopped leaves
3 garlic cloves, minced
2 fresh bay leaves or 1 dried
1/3 cup extra virgin olive oil
1 1/2 tbsps kosher salt, more to taste
1 small parmesan rind, plus 1/2 cup freshly grated parmesan
1 cup diced tomatoes, canned or fresh
2 medium carrots, sliced into 1/4-inch rounds
2 celery stalks, sliced 1/4-inch thick
zest of 1 lemon
1/4 tsp black pepper
Directions
Tasting notes: The bright cherry and cranberry flavors pair brilliantly with the lemon and rosemary and the earthy aromas come out with the chickpeas and carrots.
Serena's tips: Don't skip on the lemon, rosemary, parmesan blend, it definitely brightens the soup and gives it a delightful spark of light.
General process notes from Serena: Take out the parmesan rind and bay leaf before serving. I pulled the onion, got rid of the clove and then diced the onion and added it back in, leaving the clove out.
Recipe:
Website link
Website address: cooking.nytimes.com/recipes/1013535-chickpea-vegetable-soup-with-parmesan-rosemary-and-lemon
Recipe courtesy of Melissa Clark and the New York Times. Photo courtesy of Andrew Scrivani for The New York Times.