Chicken with Mixed Mushrooms and Cream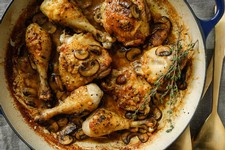 Recipe Date:
September 1, 2022
Measurements:
Imperial (US)
Ingredients
2 tbsps olive oil
4 tbsps butter
3 cups mushrooms, sliced 1/4-inch thick
3 sprigs of thyme
sea salt & freshly ground black pepper
4 chicken thighs
4 chicken drumsticks
1/2 cup chicken broth
1/4 cup finely diced onion
1/3 cup riesling
1/4 cup heavy cream
Directions
Tasting notes: Mushrooms are a natural pairing element for the earthy flavors of Pinot and the Pinot helps to balance the rich sauce.
Serena's tips: We rmake this dish using bone in chicken thighs instead of the combination of thighs and drumsticks. Definitely use a dry Riesling.
Recipe:
Website link
Website address: https://cooking.nytimes.com/recipes/7391-chicken-with-mixed-mushrooms-and-cream
Recipe courtesy of Amanda Hesser for the New York Times. Photo courtesy of the New York Times.