Chicken Breasts with Feta and Figs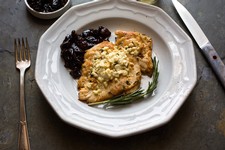 Recipe Date:
September 1, 2022
Measurements:
Imperial (US)
Ingredients
4 5-6 oz. boneless, skinless chicken breasts
salt and pepper, to taste
2 tsps chopped fresh rosemary
2 garlic cloves, peeled and crushed
2 tbsps extra-virgin olive oil (plus 2 additional tsp)
2 ozs feta
1 1/4 tsps fresh thyme leaves
1/2 cup red wine
8 fresh figs, cut in small dice
1 tbsp honey
rosemary sprigs for garnish (optional)
Directions
Tasting Notes:
Serena's Tips:
Recipe Link: https://cooking.nytimes.com/recipes/1017615-chicken-breasts-with-feta-and-figs?action=click&module=Global%20Search%20Recipe%20Card&pgType=search&rank=1
Recipe courtesy of Martha Rose Shulman for the New York Times. Photo courtesy of the New York Times.