Balsamic Roasted Beet Salad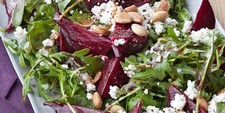 Recipe Date:
September 1, 2021
Measurements:
Imperial (US)
Ingredients
8 medium-size beets, tops removed and scrubbed
1/2 cup balsamic vinegar
1/2 cup good olive oil
2 tsps dijon mustard
kosher salt and freshly ground black pepper
4 ozs baby arugula
1/3 cup roasted, salted marcona almonds, toasted
4 ozs soft goat cheese, such as montrachet, crumbled
Directions
Tasting notes: The almonds compliment the earthiness in the wine while the bright red fruit in the Green Ranch Pinot compliments the goat cheese and makes the beets seem even earthier.
Serena's tips: Determine how much argula to use pending on how peppery it is.
Recipe:
Website link
Website address: https://barefootcontessa.com/recipes/balsamic-roasted-beet-salad
Recipe courtesy of Ina Garten. Photo courtesy of Quentin Bacon for The Barefoot Contessa.