Baked Ziti with Spicy Pork Sausage Ragu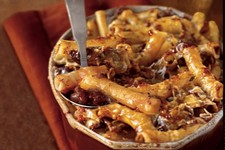 Recipe Date:
September 2, 2016
Measurements:
Imperial (US)
Ingredients
4 ozs Diced pancetta
2 lbs Boston butt (pork shoulder), cut into large chunks
1 lb Italian hot sausages, casings removed
2 cups Chopped onion
3/4 cup Chopped carrots
3/4 cup Chopped celery
6 Large fresh thyme sprigs
6 Large garlic cloves, chopped
2 Bay leaves
1/2 tsp Dried crushed red pepper flakes
2 cups Dry red wine
1 28 ounce can diced tomato
1 1/4 lbs Ziti pasta
2 cups Coarsely grated whole-milk mozzarella
1/2 cup Freshly grated Parmesan
Directions
Pairing Notes: This dish highlights the vibrant acidity and the bright cherry elements in the 2014 Upton Vineyard Sangiovese.
Serena's Tips: We double the amount of diced tomatoes because we like it saucy so you may want to reduce that depending on your taste. We add the bay leaves in with the wine to prevent it from breaking up with the vegetables. Fresh spinach is great in this dish (or as a side) so we throw in 5 to 8 oz of fresh spinach into the ragu when we add the pasta. It's easier to shred the pork if you leave it in bigger chunks than the recipe suggests.
Pecipe courtesy of Epicurious Bon Appetit February 2004
Phioto courtesy of Epicurious