Baked Cheesy Pasta with Wild Mushrooms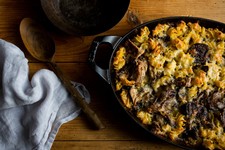 Recipe Date:
September 1, 2022
Measurements:
Imperial (US)
Ingredients
1 lb mixed wild or cultivated mushrooms (ex. oyster, shiitake, or maitake)
3 tbsps extra-virgin olive oil
1/2 tsp kosher salt, more as needed
1/2 tsp black pepper, plus a few grinds
2 fresh rosemary branches
1/2 lb orecchiette, farfalle, or other short pasta
3/4 cup heavy cream
1/2 cup fresh ricotta
1 1/4 cups fontina cheese, grated
1/2 cup parmesan, grated
1 tsp finely chopped fresh sage
1 garlic clove, finely grated
Directions
Tasting Notes:
Serena's Tips:
Recipe Link: https://cooking.nytimes.com/recipes/1017946-baked-cheesy-pasta-with-wild-mushrooms?action=click&module=Global%20Search%20Recipe%20Card&pgType=search&rank=1
Recipe courtesy of Melissa Clark from the New York Times. Photo courtesy of the New York Times.