Baked Cheesy Pasta with Wild Mushrooms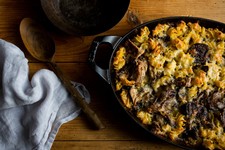 Recipe Date:
September 1, 2022
Measurements:
Imperial (US)
Ingredients
1 lb mixed wild or cultivated mushrooms (ex. oyster, shiitake, or maitake)
3 tbsps extra-virgin olive oil
1/2 tsp kosher salt, more as needed
1/2 tsp black pepper, plus a few grinds
2 fresh rosemary branches
1/2 lb orecchiette, farfalle, or other short pasta
3/4 cup heavy cream
1/2 cup fresh ricotta
1 1/4 cups fontina cheese, grated
1/2 cup parmesan, grated
1 tsp finely chopped fresh sage
1 garlic clove, finely grated
Directions
Tasting notes: This is such a fun recipe that creates a super tasty and very creamy dish which is why the bright acidity of the 2020 Mendocino Ridge Pinot is such a good balance for it.
Serena's tips: We used aged gruyere cheese instead of fontina because we prefer the flavor of the gruyere. Both are wonderful cheeses for melting. During harvest, we assemble it the day before and then pop it in the oven when we get home.
Recipe:
Website link
Website address: https://cooking.nytimes.com/recipes/1017946-baked-cheesy-pasta-with-wild-mushrooms
Recipe courtesy of Melissa Clark from the New York Times. Photo courtesy of the New York Times.