Baked Barley Risotto With Mushrooms and Carrots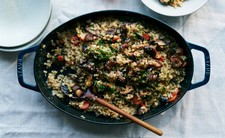 Recipe Date:
March 19, 2020
Measurements:
Imperial (US)
Ingredients
3 tbsps extra-virgin olive oil
1/2 small white or yellow onion, finely chopped (about 1/2 cup)
5 garlic cloves, thinly sliced
1 lb mixed mushrooms, such as white button, cremini and shiitakes, halved if small, quartered if large (about 7 cups total)
kosher salt and black pepper
10 ozs pearl barley (about 1 1/2 cups)
1 medium carrot, very thinly sliced into rounds (about 1 cup)
2 ounces grated parmesan (about 1/2 cup), plus more for serving
2 tbsps unsalted butter
1/4 cup chopped chives
Directions
Tasting notes: This is a great nutty, earthy dish which enhances the earthy notes in the Transverse pinot noir.
Serena's tips: We browned the mushrooms before adding them to the dish as suggested by the New York Times and it definitely adds another great layer of flavor. We also left the chives off and had a lot of extra Parmesan for serving.
Recipe:
Website link
Website address: cooking.nytimes.com/recipes/1020031-baked-barley-risotto-with-mushrooms-and-carrots
Recipe courtesy of Kay Chun and the New York Times. Photo courtesy of David Malosh for The New York Times. Food Stylist: Simon Andrews. https://cooking.nytimes.com/recipes/