Arctic Char with Spinach Butter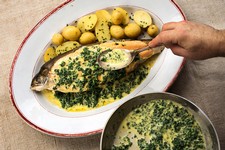 Recipe Date:
September 1, 2022
Measurements:
Imperial (US)
Ingredients
10 ozs baby spinach
1 arctic char, about 2 lbs, cleaned and left whole
salt and pepper
1 tsp chopped fresh tarragon, plus a few sprigs inside the fish
2 tbsps unsalted butter at room temp
6 tbsps chilled, unsalted butter (used for the sauce)
1/2 cup créme fraiche
1/2 tsp grated lemon zest
1 tsp finely sliced chives
1 lb boiled potatoes, for serving (optional)
Directions
Tasting notes: We love spinach pairings with Pinot and the spinach sauce is deliciuos and very rich. The spinach plays well with the earthyness of the Pinot and the acidity of the Pinot helps cut through the richness of the sauce.
Serena's tips: You can use frozen spinach and unthaw it. After step 3, get your new potatoes in boiling water so that they cook as the fish cooks before starting step 4. If you can't find Arctic char, you can use swordfish or halibut.
Recipe:
Website link
Website address: https://cooking.nytimes.com/recipes/1016115-arctic-char-with-spinach-butter
Recipe courtesy of Darina Allen, adapted by David Tanis for the New York Times. Photo courtesy of the New York Times.