Roasted Red Pepper Soup Shooters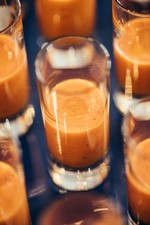 Measurements:
Imperial (US)
Ingredients
16 ozs Jar of fire-roasted red peppers with their juices
1 tbsp Sherry vinegar
1/2 tsp Kosher salt
1/4 tsp Black pepper
1/4 cup Olive oil
Directions
Pairing Notes: There's something about a chilled red pepper soup that makes the Gewürztraminer sing. We've been serving this combination at the Minnesota spring release party for the past three years, thanks to the chefs at Chowgirls Killer Catering who introduced us to this delightful pairing. The slight sweetness of the roasted red peppers complements the acidity of the Gewürz, while the wine's medium body matches the texture of the soup. The aromas from the soup also play with the citrus elements of the wine, highlighting its floral aromas.
Chef's Tip: Garnish it wiht a dash of delicious olive oil to give it a velvety texture.
Recipe courtesy of Epicurious.com via the Bon Appétit Test Kitchen
Photo courtesy of Gary Ottonello for Cartograph