Fingerling Potatoes with Avocado and Smoked Salmon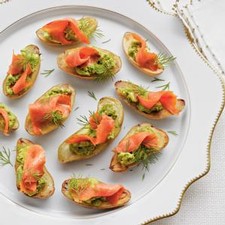 Measurements:
Imperial (US)
Ingredients
1 lb Fingerling potatoes, halved lengthwise
1 tbsp Olive oil
1/2 tsp Salt
1/4 tsp Pepper
1 Ripe avocado, halved
1 tbsp Fresh dill, minced; plus more sprigs for garnish
1 tsp Lemon zest
2 tsps Fresh lemon juice
1/8 tsp Salt
4 ozs Smoked salmon, thinly sliced
Directions
Pairing Notes: The creaminess of the avocado plays off the Rosé's crispness, and the smoked salmon highlights the wine's acidity.
Chef's Tip: If you scoop out a little of the potato flesh before baking, it makes a nice "bowl" for the avocado, and will help crisp up the potatoes.
Recipe courtesy of Jackie Mills, Southern Living, via Myrecipes.com; Photo courtesy of Jim Franco.