Goat Cheese with Grilled Eggplant and Roasted Pepper Sandwich on Olive Bread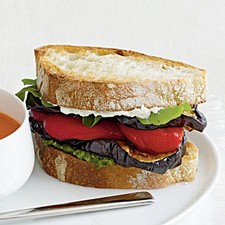 Recipe Date:
May 13, 2013
Measurements:
Imperial (US)
Ingredients
2 ozs Fresh goat cheese
2 Slices olive bread
3 1/4 inch grilled eggplant slices
1/2 A large roasted red pepper
1 tsp Lightly salted butter
Directions
Pairing Notes: We look the taste of grilled eggplant and red peppers together and think this accompanies the earthiness of Pinot beautifully.
Chef's Tip: Fresh mozzarella works well in place of goat cheese if you are not a fan of goat cheese. And for the sake of ease, you can purchase roasted red peppers instead of roasting your own.
Recipe courtesy of Ira Freehof of The Comfort Diner, NY via Epicurious.com
Photo courtesy of Kana Okada; Styling: Sara Quessenberry via myrecipes.com