Goat Cheese with Grilled Eggplant and Roasted Pepper Sandwich on Olive Bread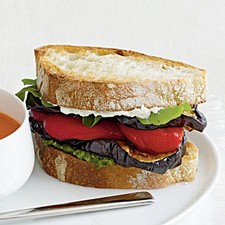 Recipe Date:
May 13, 2013
Measurements:
Imperial (US)
Ingredients
2 ozs fresh goat cheese
2 slices olive bread
3 1/4 inch grilled eggplant slices
1/2 a large roasted red pepper
1 tsp lightly salted butter
Directions
Tasting notes: We look the taste of grilled eggplant and red peppers together and think this accompanies the earthiness of Pinot beautifully.
Serena's tips: Fresh mozzarella works well in place of goat cheese if you are not a fan of goat cheese. And for the sake of ease, you can purchase roasted red peppers instead of roasting your own.
Recipe:
Website link
Website address: www.epicurious.com/recipes/food/views/goat-cheese-with-grilled-eggplant-and-roasted-peppers-on-olive-bread-102912
Recipe courtesy of Ira Freehof of The Comfort Diner, NY via Epicurious.com. Photo courtesy of Kana Okada; Styling: Sara Quessenberry via myrecipes.com.